What's In the $1 Trillion Farm Bill?
by Alyssa Oursler | June 11, 2013 11:42 am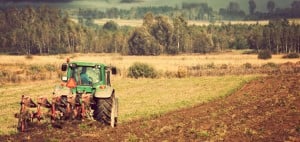 Last night, the Senate passed a new farm bill that the Congressional Budget Office estimates will cost taxpayers $955 billion over the next 10 years.
The debate is now moving to the House, where the bill is slightly difference and The NY Times reports[1] that the farm bill "faces a much tougher road" there.
Regardless, let's take a look at just what's behind this nearly $1 trillion piece of legislation. The bill will:
Expand subsidies for crop insurance, totaling an additional $5 billion per year to cover deductibles.
Eliminate the direct payments that the federal government gives to farmers, saving about $17.44 billion over 10 years. Many say this is the biggest policy change in the Senate bill.
Slightly cut to food stamp funding. The Senate bill tweaks some of the rules about assistance eligibility and cuts spending by $3.9 billion, while the House bill would reduce food-stamp payments by $20.5 billion over the next decade.
Increase support and funding for community farmers' markets to promote local-grown food.
Slightly cut programs that encourage conservation, including rewarding use of ecologically friendly farming methods. As The Washington Post put it[2], the cut is "in part because the government will be supervising a smaller total area" but comes on top of sequester cuts.
Add programs designed to encourage younger Americans to enter into farming as a profession.
Endnotes:
The NY Times reports: http://www.nytimes.com/2013/06/11/us/politics/senate-passes-farm-bill-house-vote-is-less-sure.html?_r=0
As The Washington Post put it: http://www.washingtonpost.com/blogs/wonkblog/wp/2013/06/10/the-senate-is-voting-on-a-955-billion-farm-bill-heres-whats-in-it/
Source URL: https://investorplace.com/investorpolitics/whats-in-the-1-trillion-farm-bill/
Short URL: https://investorplace.com/?p=358900
---