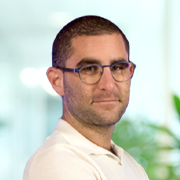 Charlie Shrem
Editor, Crypto Investor Network
About Charlie Shrem
Charlie Shrem is a bitcoin legend – plain and simple.
As a young computer programmer, Charlie was fortunate to receive the white paper that started the cryptocurrency revolution: Satoshi Nakamoto's "Bitcoin: A Peer-to-Peer Electronic Cash System." After reading it, he knew that bitcoin and the blockchain would change America – and possibly even the world – in big ways.
So, Charlie became one of bitcoin's earliest backers and today is considered one of the most influential people in cryptocurrencies.
Charlie and friend Gareth Nelson launched BitInstant, one of the first and ultimately largest bitcoin exchanges, at the dawn of the crypto era in 2011. The company operated until July 2013, at which point it was processing about 30% of all bitcoin transactions.
He was also one of the founding members of the Bitcoin Foundation in 2012, which aimed at bringing mainstream awareness to the digital currency world. Charlie served as Vice Chairman until resigning in January 2014.
Since then, Charlie has advised and invested in more than two dozen digital currency companies, launched and managed numerous partnerships between crypto and non-crypto companies, and is the go-to guy for some of the world's wealthiest entrepreneurs. And in May 2019, he launched his podcast, Untold Stories, which "tells the untold narrative of how the crypto movement truly came to be."
He's been mentioned in Fortune… Forbes… CNN… 60 Minutes… TED Talks… Bloomberg… and The Wall Street Journal… to name a few.
His story has been featured in numerous Netflix documentaries and best-selling books, including the seminal blockbuster Bitcoin Billionaires.
He's been called one of bitcoin's first tycoons… bitcoin royalty… and a crypto visionary.
And now Charlie brings his story, cryptocurrency knowledge, and specific altcoin recommendations to help individuals profit from the crypto awakening.

Join InvestorPlace Digest — FREE!
Get the best free advice from the world-class analysts at InvestorPlace... delivered straight to your inbox.
Premium Services

Luke Lango teams up with bitcoin legend Charlie Shrem to help investors profit from the next chapter of explosive growth. Businesses, governments, and individuals are waking up to the fact that cryptocurrencies are the most disruptive technology since the internet. As this shift continues, crypto blockchains will "disintermediate" big banks and big tech, unleashing a multi-trillion-dollar tsunami of new wealth and mint new millionaires and billionaires.
Cryptocurrencies

Aggressive

Low to Moderate Trades