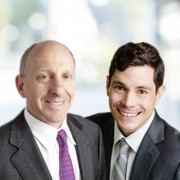 Dan Wiener and Jeff DeMaso
The Independent Adviser for Vanguard Investors
About Dan Wiener and Jeff DeMaso
Editor Dan Wiener and Research Director Jeffrey DeMaso publish the The Independent Adviser for Vanguard Investors, an award-winning monthly newsletter that keeps subscribers abreast of recent developments at Vanguard, and provides long-term guidance for investing in the Vanguard fund family. They also work together on the newsletter's annual companion publication, the Independent Guide to the Vanguard Funds, which profiles the entire Vanguard fund family with detailed analysis and recommendations for each of Vanguard's mutual funds, ETFs and annuities.
Dan Wiener and Jeff DeMaso also manage over $2 billion in assets as part of the management team at Adviser Investments, LLC, which was ranked among the top 25 independent financial advisers in the U.S by Barron's in 2013.

Join Fund Focus Weekly — FREE!
Get the best funds to buy and sell from leading Vanguard & Fidelity experts Dan Wiener, Jeff DeMaso and Jim Lowell.
Premium Services

The Independent Adviser for Vanguard Investors is a monthly newsletter offering investors the unvarnished truth about Vanguard funds. By targeting a "chosen few" of Vanguard's best funds, Dan Wiener and Jeff DeMaso's model portfolios routinely beat the S&P 500.
Mutual Funds & ETFs

Any

Ratings published monthly

Dan Wiener and Jeff DeMaso's Independent Vanguard Fund Analyzer makes it quick and easy to spot which Vanguard funds are ideal for your investing goals. Log on anytime to give your Vanguard portfolio a "check up," assessing risk, returns, management, turnover and more — in seconds.
Mutual Funds & ETFs

Any

24/7 online access
Recent Articles
Although paying taxes on your earnings now rather than later sounds like no fun, it will actually benefit your retirement plans in the long run.
If it sounds too good to be true, it usually is. Annuities grow faster than taxable funds -- but income taxes upon withdrawal can take away a lot of their juice.
If you have been neglecting foreign stocks in your portfolio, Vanguard International Growth provides a path to foreign exposure for 2013.
Vanguard continues to attract investors -- and their money -- by cutting costs to remain competitive in the mutual fund "price wars."