Cosmos (ATOM-USD)
$31.70 3.30 (11.62%)
ATOM-USD Stock Quote Delayed 30 Minutes
With China banning cryptos, the entire blockchain sector appears to be at an inflection point, thus incentivizing caution. With the world's second-largest economy out of the digital asset game, it's time for crypto investors to tread carefully.
3 Cryptos to Beat Bitcoin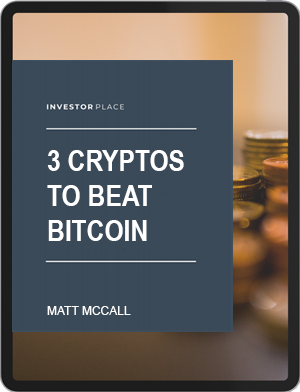 InvestorPlace expert Luke Lango reveals 3 cryptocurrencies he believes could beat Bitcoin… and you can get their names — for FREE — in his latest report!
Download His Free Report Here:
Previous Close -
Avg. Volume (YTD) 21,739
Day's Range 28.40 - 28.40
52-Week Range 4.23 - 44.20