Bitcoin (BTC-USD)
$32,517.55 1.00 (3.42%)
BTC-USD Stock Quote Delayed 30 Minutes
Bitcoin will not give up its market dominance anytime soon, despite reports to the contrary. Bitcoin is not on its deathbed, despite reports from major brokerage and research firms.
3 Cryptos to Beat Bitcoin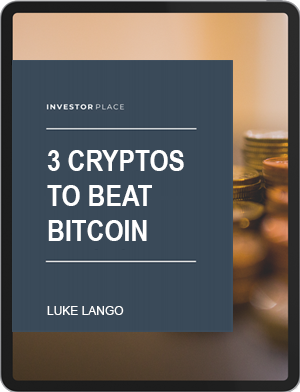 InvestorPlace expert Luke Lango reveals 3 cryptocurrencies he believes could beat Bitcoin… and you can get their names — for FREE — in his latest report!
Download His Free Report Here:
Previous Close -
Avg. Volume (YTD) 4,692
Day's Range 33,668.49 - 33,668.49
52-Week Range 8,822.00 - 63,572.42