Dogecoin (DOGE-USD)
$0.21 0.01 (2.86%)
DOGE-USD Stock Quote Delayed 30 Minutes
Speculation is fun, but it isn't investing. And the fun is likely to run out faster than your Dogecoin investment drops to zero. Here are 5 reasons to heckin avoid this altcoin.
3 Cryptos to Beat Bitcoin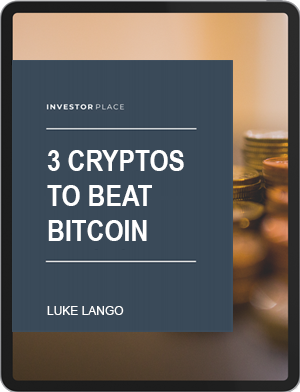 InvestorPlace expert Luke Lango reveals 3 cryptocurrencies he believes could beat Bitcoin… and you can get their names — for FREE — in his latest report!
Download His Free Report Here:
Previous Close -
Avg. Volume (YTD) 91.32M
Day's Range 0.20 - 0.20
52-Week Range 0.00 - 0.65