Dogecoin (DOGE-USD)
$0.22 0.00 (0.40%)
DOGE-USD Stock Quote Delayed 30 Minutes
Whether bullish or bearish on the crypto market's next direction, one thing's certain: stay away from Dogecoin. DOGE-USD gains didn't last into September as other cryptos rose.
3 Cryptos to Beat Bitcoin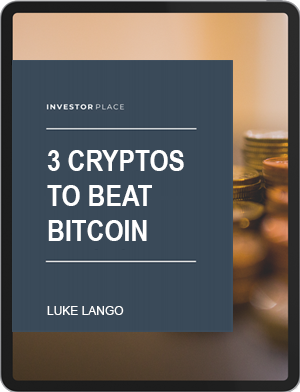 InvestorPlace expert Luke Lango reveals 3 cryptocurrencies he believes could beat Bitcoin… and you can get their names — for FREE — in his latest report!
Download His Free Report Here:
Previous Close -
Avg. Volume (YTD) 73.06M
Day's Range 0.22 - 0.22
52-Week Range 0.00 - 0.65