Litecoin (LTC-USD)
$149.70 1.20 (0.80%)
LTC-USD Stock Quote Delayed 30 Minutes
Litecoin is an interesting crypto with a high correlation to Bitcoin but a huge upside. Even with a two-thirds discount to its comp value with Bitcoin, Litecoin crypto could rise 88% annually over the next 5 years to $3,622.
3 Cryptos to Beat Bitcoin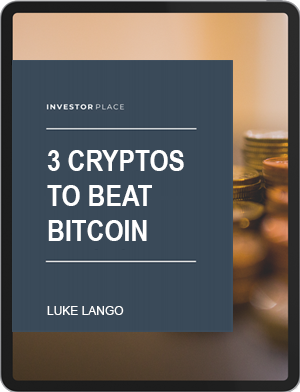 InvestorPlace expert Luke Lango reveals 3 cryptocurrencies he believes could beat Bitcoin… and you can get their names — for FREE — in his latest report!
Download His Free Report Here:
Previous Close -
Avg. Volume (YTD) 19,403
Day's Range 150.90 - 150.90
52-Week Range 43.20 - 387.97