Litecoin (LTC-USD)
$136.99 2.19 (1.62%)
LTC-USD Stock Quote Delayed 30 Minutes
Expect to see Litecoin rebound by the end of the year. Litecoin is likely to rise along with Bitcoin if it starts to recover as interest in cryptos rebounds.
3 Cryptos to Beat Bitcoin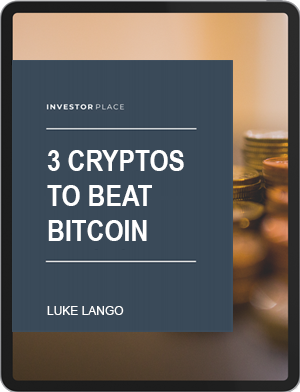 InvestorPlace expert Luke Lango reveals 3 cryptocurrencies he believes could beat Bitcoin… and you can get their names — for FREE — in his latest report!
Download His Free Report Here:
Previous Close -
Avg. Volume (YTD) 25,094
Day's Range 134.80 - 134.80
52-Week Range 41.62 - 387.97