Stellar (XLM-USD)
$0.27 0.01 (3.72%)
XLM-USD Stock Quote Delayed 30 Minutes
Stellar Lumens aims to significantly reduce transaction costs and time lags in cross-border transactions. That is the long-term XLM story here.
3 Cryptos to Beat Bitcoin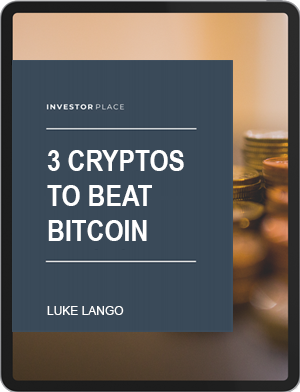 InvestorPlace expert Luke Lango reveals 3 cryptocurrencies he believes could beat Bitcoin… and you can get their names — for FREE — in his latest report!
Download His Free Report Here:
Previous Close -
Avg. Volume (YTD) 5.64M
Day's Range 0.26 - 0.26
52-Week Range 0.07 - 0.73