Ripple (XRP-USD)
$1.57 0.04 (2.34%)
XRP-USD Stock Quote Delayed 30 Minutes
Ripple is a payments settlement system and currency exchange network that can process transactions from all over the world. People use this network for transactions involving Ripple's own proprietary digital token called "XRP,"and many champions of digital coins are excited. However, Ripple and its XRP digital token have to overcome some big obstacles in front of them before they can move forward successfully.
3 Cryptos to Beat Bitcoin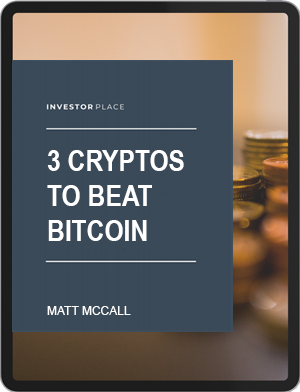 Crypto legend Matt McCall reveals 3 cryptocurrencies he believes could be bigger than Bitcoin… and you can get their names — for FREE — in his latest report!
Download His Free Report Here:
Previous Close -
Avg. Volume (YTD) 29.12M
Day's Range 1.54 - 1.54
52-Week Range 0.17 - 1.83