"There is only one side of the market, and it is not the bull
side or the bear side, but the right side." – Jesse Livermore
Let me give you the briefest summation of Wall Street over the last six months: Investors worry about something that's unlikely to happen, the financial media amplifies said worry, calming voices are ignored, the markets trends downward, the financial media then calls for civility and public-spiritedness to address the needless worry they just promoted, incredibly the world doesn't end, the worries fade away, volatility falls and the market quietly rallies.
We've repeated this dance so many times I'm beginning to lose count. There was the Fiscal Cliff, the debt ceiling (remember the $1-trillion coin), the elections in Italy, the fiasco in Cyprus and the Great Rotation out of bonds. The latest worry is war rumblings from North Korea. While the rhetoric is disturbing, the reality is that Pyongyang's bark is far worse than its bite.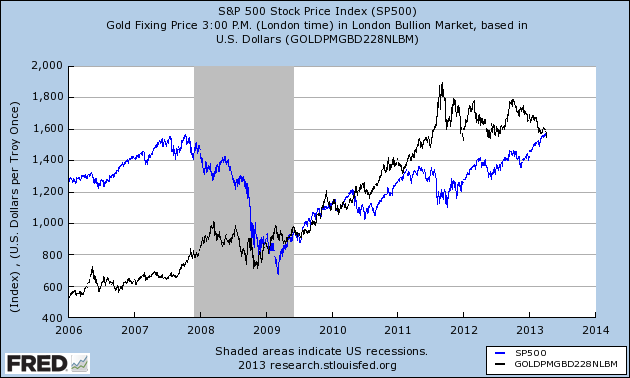 What's interesting is that the market has so far ignored the threats from North Korea. I suspect that we're going through Apocalypse Fatigue. Michael Gayed has suggested we're in a Honey Badger market: Whatever latest worry comes our way, stock market don't care. I suspect he's on to something.
There are, however, stealth movements occurring within the market that we need to pay attention to. Since the middle of March, the market has become more defensive. A lot more defensive. The more-conservative sectors have led the more-aggressive sectors. In a few cases, the divergence has been rather stunning. The Healthcare ETF (NYSE:XLV), for example, has beaten the S&P 500 for the last 12 days in a row. Both Utilities (NYSE:XLU) and Consumer Staples (NYSE:XLP) have been recent leaders as well.
The move towards defensive stocks is telling us something. Coupled with the recent drop in gold, this suggests that investors are finally shying away from risk. The price of gold actually fell below the S&P 500 for the first time since May 4, 2010 (see chart above). I won't go so far as to say this portends a bear market, but it may spell an end to the market's appetite for risk.

What to do now: Investors should remain calm and make sure they own high-quality stocks such as the ones on our Buy List. Dividends are especially important right now. A 3% yield might not seem like a lot, but traders will swim to those lifeboats if things get rough. Earnings season starts next week, and I expect that the gap between winners are losers will grow even wider. Patience and discipline are our keys.