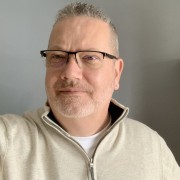 Brad Moon
InvestorPlace Contributor
Brad Moon lives in London, Ontario — a few hours west of Toronto and 45 minutes from the headquarters of BlackBerry.
He has been a regular contributor to Forbes since 2015 and has written technology and consumer electronics focused articles for a range of outlets over the past decade, including Wired, About.com, Shaw Media, Gizmodo, GeekDad and others. He published a weekly technology column in The Winnipeg Free Press, writes a monthly tech column for London Business Magazine and has made numerous radio and conference appearances speaking about technology trends.
Prior to his writing career, Brad was a senior Product Manager and Research Analyst with a leading Canadian financial technology firm and spent six years working at the Richard Ivey School of Business. He holds a BA from the University of Western Ontario.

Join Louis Navellier's Market 360 — FREE!
Get Louis Navellier's take on the news and events impacting the market, plus advice on the best stocks to buy & sell now.
Recent Articles
AAL stock may be tempting, but with challenges faced by the airline industry expected to extend beyond coronavirus, it's a risky bet.
HomePod sales have little impact on Apple stock, so why doesn't the company press its data privacy advantage to boost smart speaker sales?
Qualcomm stock has been knocked down by coronavirus, but 5G rollout and smartphone adoption means growth ahead.
Wedbush lowers AAPL price target on concerns Apple stock would take a hit if coronavirus delays the 5G iPhone 12 launch.
The companies behind some of the biggest tech stocks on the market are helping the fight against coronavirus with screening tools to help the public check for symptoms.