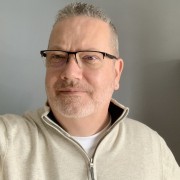 Brad Moon
InvestorPlace Contributor
Brad Moon lives in London, Ontario — a few hours west of Toronto and 45 minutes from the headquarters of BlackBerry.
He has been a regular contributor to Forbes since 2015 and has written technology and consumer electronics focused articles for a range of outlets over the past decade, including Wired, About.com, Shaw Media, Gizmodo, GeekDad and others. He published a weekly technology column in The Winnipeg Free Press, writes a monthly tech column for London Business Magazine and has made numerous radio and conference appearances speaking about technology trends.
Prior to his writing career, Brad was a senior Product Manager and Research Analyst with a leading Canadian financial technology firm and spent six years working at the Richard Ivey School of Business. He holds a BA from the University of Western Ontario.

Join InvestorPlace Insights — FREE!
Get actionable advice from our top experts, including the hottest stocks to buy & sell, 401k and retirement tips, market analysis and more!
Recent Articles
Q4 ADBE earnings will be reported after the bell on December 12. Here's what to expect and what could happen to Adobe stock.
Modern versions of Nokia classics like the Nokia 3310 and Nokia 2720 flip pone, plus new Nokia Android smartphones are made under license.
Chinese video on demand company iQiyi remains a risky bet, despite the fact that IQ stock has gained 13% since mid-November in its latest rally.
Zynga stock has preformed very well in 2019 posting 59% growth rates, but analysts are predicting more modest performance in 2020.
Awesome high-tech gifts don't have to cost a fortune. Here are 10 that are under $100.
In late 2017, Snap announced a controversial redesign of Snapchat, a move that cost it millions of users, but is paying off two years later.
Qualcomm stock is retreating from a record high set after its Q4 earnings were reported, but will QCOM slide into 2020 or return to growth?
CEO Larry Culp continues his plan to turn around General Electric and boost the GE stock price, as he hired a new CFO to cut debt.
If you're on the hunt for good tech gifts and have a budget that's $500 or greater, here are ten of the best options out there in 2019.
Although Square stock has incurred some volatility, the longer-term outlook for the payment processing specialist is favorable considering society's push in decreasing cash usage.