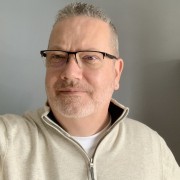 Brad Moon
InvestorPlace Contributor
Brad Moon lives in London, Ontario — a few hours west of Toronto and 45 minutes from the headquarters of BlackBerry.
He has been a regular contributor to Forbes since 2015 and has written technology and consumer electronics focused articles for a range of outlets over the past decade, including Wired, About.com, Shaw Media, Gizmodo, GeekDad and others. He published a weekly technology column in The Winnipeg Free Press, writes a monthly tech column for London Business Magazine and has made numerous radio and conference appearances speaking about technology trends.
Prior to his writing career, Brad was a senior Product Manager and Research Analyst with a leading Canadian financial technology firm and spent six years working at the Richard Ivey School of Business. He holds a BA from the University of Western Ontario.

Join Louis Navellier's Market 360 — FREE!
Get Louis Navellier's take on the news and events impacting the market, plus advice on the best stocks to buy & sell now.
Recent Articles
GrubHub stock is down after Q1 earnings missed the target, daily food orders dropped, and the company declined to release Q2 revenue guidance.
Apple stock continues on recovery path after better than expected Q2 results show the company's resilience to coronavirus pandemic.
To find tech stocks with upside for the next decade, look for companies that are strong now and have a business built for future growth.
Video game stocks like EA and ATVI are set to have blockbuster years in 2020 because of new consoles, games and lockdown-driven demand.
Elon Musk's latest Twitter escapade may lend him in hot water with the SEC again, but the impact on TESLA stock should be short term.