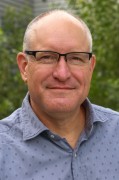 Craig Jonas
CEO of CoPeace
About Craig Jonas
Craig Jonas, CEO of CoPeace, is a lifelong entrepreneur with success across business, academic, and athletic industries. He has over 30 years of experience in management with a passion for teambuilding and drawing individuals with big ideas together

Join InvestorPlace Insights — FREE!
Get actionable advice from our top experts, including the hottest stocks to buy & sell, 401k and retirement tips, market analysis and more!
Recent Articles
Who said you can't walk and chew gum at the same time? New graduates don't have to choose between their morals and their money when it comes to impact investing.
If the New York City Climate Clock has you spooked, it's time for you to learn how impact or ESG investing can fight climate change.