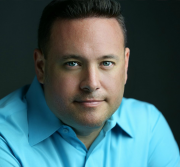 David Cohne
StockNews.com
About David Cohne
David Cohne has 20 years of experience as an investment analyst and writer. Prior to StockNews, David spent eleven years as a Consultant providing outsourced investment research and content to financial services companies, hedge funds, and online publications. He also served as a Consultant and Senior Investment Writer to NextShares Solutions LLC where he provided content on Exchange-Traded Products.
Previously, David was Vice President and Director of Research at The Rankings Service, an independent investment research and consulting firm that scored and ranked mutual fund managers. He also served as Vice President and Senior Analyst at Fundworks Inc, a financial newsletter publishing firm. David started his career in portfolio management at Adviser Investments, an independent wealth management firm. He received an undergraduate degree in Economics at Brandeis University and an MBA from Arizona State University.
David enjoys researching and writing about stocks and the markets. He takes a fundamental quantitative approach in evaluating stocks for readers.

Join InvestorPlace Insights — FREE!
Get actionable advice from our top experts, including the hottest stocks to buy & sell, 401k and retirement tips, market analysis and more!
Recent Articles
One of the most significant investment themes over the past few years has been 5G technology. The introduction of 5G has markedly increased global telecommunications.
 There's no question that stocks in the Nasdaq composite index have seen massive gains over the last year and a half. Even after taking a back seat to cyclicals late last year, the index continues to hit new heights. That's why investors should focus on Nasdaq stocks that offer the best long-term prospects. Qualcomm Inc. (QCOM), Amgen Inc. (AMGN), and Workday, Inc. (WDAY) are three that are certainly worth a look.
With all three of the major indexes continuing to break records, it may seem like most stocks are trading at very high prices. But there are still plenty of low-priced stocks that would make great additions to your portfolio. Stocks such as Sirius XM Holdings Inc., Catalyst Pharmaceuticals, Inc. and Nokia Corp. ADR are all trading below $10 but have the potential for higher gains in the months ahead.
The reopening of the global economy has its good side and bad side. Investors should consider finding inflation-resistant stocks to buy.
After a recent dip, these three top tech stocks look ready to take shareholders on another leg higher. Here's what you need to know.