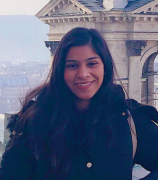 Divya Premkumar
InvestorPlace Contributor
Divya is a writer and analyst with a degree in Finance from the University of Houston, Texas. Her biggest strengths are her natural curiosity and ability to view ideas through both a creative and strategic lens. She is an avid reader and enjoys writing on a variety of topics including trading, investing, socio-economic issues and global policy. In her spare time, Divya is either traveling or learning a new skill.

Join InvestorPlace Insights — FREE!
Get actionable advice from our top experts, including the hottest stocks to buy & sell, 401k and retirement tips, market analysis and more!
Recent Articles
The coronavirus pandemic amplified the streaming space in 2020, and this trend is here to stay. Here are the top streaming stocks to buy.
With Prime Day just around the corner, this is the perfect time to place your bets on Amazon stock and reap the returns in the coming months.
Experts believe renewable energy will see accelerated growth over the next five years. Here are the top solar stocks worth placing your bets on for long-term returns.
SNOW stock made a successful IPO debut last month, but some investors believe the stock is overvalued. Here's why Snowflake is worth the hype.
Defense stocks have always proven to be a safe bet in a volatile market. Here are the top three stocks to buy no matter who is President.