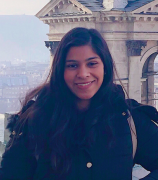 Divya Premkumar
InvestorPlace Contributor
Divya is a writer and analyst with a degree in Finance from the University of Houston, Texas. Her biggest strengths are her natural curiosity and ability to view ideas through both a creative and strategic lens. She is an avid reader and enjoys writing on a variety of topics including trading, investing, socio-economic issues and global policy. In her spare time, Divya is either traveling or learning a new skill.

Join InvestorPlace Insights — FREE!
Get actionable advice from our top experts, including the hottest stocks to buy & sell, 401k and retirement tips, market analysis and more!
Recent Articles
Despite a slow travel year, some airlines are showing early signs of recovery as travel around the globe picks up. Here are three airline stocks that you should stay bullish on.
As the country rebounds from the pandemic, here are three autonomous vehicle stocks to place your bets on before prices soar again.
Apple's big product revel did not feature the new iPhone but this should not deter investors from holding their position in Apple stock.
Just days after its GM deal, Nikola stock declines as the company comes under scrutiny for deception and overstating the functionality of its technology.
Although penny stocks come with an added element of risk, investing in the right stocks could set you up for massive gains in the future. Here are the best penny stocks to buy right now.