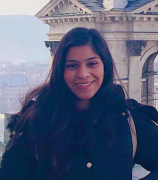 Divya Premkumar
InvestorPlace Contributor
Divya is a writer and analyst with a degree in Finance from the University of Houston, Texas. Her biggest strengths are her natural curiosity and ability to view ideas through both a creative and strategic lens. She is an avid reader and enjoys writing on a variety of topics including trading, investing, socio-economic issues and global policy. In her spare time, Divya is either traveling or learning a new skill.
Recent Articles
As inflation looms over the economy, investors look to stablecoin Pax Gold to hedge their portfolios in a volatile market environment.
Bitcoin offers long-term potential, but trends show that the crypto may not be the best way to hedge your portfolio against inflation.
GGPI stock is expected to soar higher as the company nears its SPAC merger with the luxury EV maker Polestar.
In a meme and joke-fueled investing world, here's a look at three altcoins riding Elon Musk's Twitter to higher gains.
As raw material prices hit an all-time high amidst the economic recovery, these three popular construction stocks are feeling the heat.

Join InvestorPlace Insights — FREE!
Get actionable advice from our top experts, including the hottest stocks to buy & sell, 401k and retirement tips, market analysis and more!