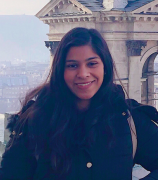 Divya Premkumar
InvestorPlace Contributor
About Divya Premkumar
Divya is a writer and analyst with a degree in Finance from the University of Houston, Texas. Her biggest strengths are her natural curiosity and ability to view ideas through both a creative and strategic lens. She is an avid reader and enjoys writing on a variety of topics including trading, investing, socio-economic issues and global policy. In her spare time, Divya is either traveling or learning a new skill.

Join InvestorPlace Insights — FREE!
Get actionable advice from our top experts, including the hottest stocks to buy & sell, 401k and retirement tips, market analysis and more!
Recent Articles
In a meme and joke-fueled investing world, here's a look at three altcoins riding Elon Musk's Twitter to higher gains.
As raw material prices hit an all-time high amidst the economic recovery, these three popular construction stocks are feeling the heat.
With the social calendars filling up, cosmetic sales are expected to reach pre-pandemic levels this year. Here's a look at three beauty stocks primed for a strong recovery.
The recent pullback in electric vehicle stocks makes now the right time to place your bets on the top names of this green sector.
As gaming, collectibles and digital art continue fueling the NFT industry, here's a look at 7 NFT projects gaining major traction this year.