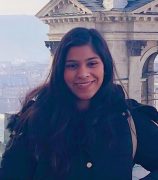 Divya Premkumar
InvestorPlace Contributor
Divya is a writer and analyst with a degree in Finance from the University of Houston, Texas. Her biggest strengths are her natural curiosity and ability to view ideas through both a creative and strategic lens. She is an avid reader and enjoys writing on a variety of topics including trading, investing, socio-economic issues and global policy. In her spare time, Divya is either traveling or learning a new skill.

Join InvestorPlace Insights — FREE!
Get actionable advice from our top experts, including the hottest stocks to buy & sell, 401k and retirement tips, market analysis and more!
Recent Articles
In a turbulent economy, growth stocks have proven to be a safe bet for many investors. Here are 7 companies that show a lot of potential for the future.
Boeing stock sees great upside as the 737 Max is expected to take flight later this year. Although the company's recovery is still unclear, the news is a step in the right direction.
AAPL stock dipped after a rocky fourth fiscal quarter but the fundamentals of this investment are undeniably strong.
Plant-based stocks are heating up as customers look for alternative meat products over environmental and animal welfare concerns.
iBio reports impressive Q1 results as biotech companies see a strong rally this year. Here's the latest on IBIO stock.