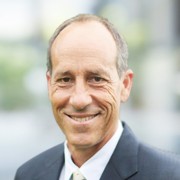 Eric Fry and the InvestorPlace Research Staff
Eric J. Fry has been a specialist in international equities for nearly two decades. He was a professional portfolio manager for more than 10 years, specializing in international investment strategies and short-selling.
Following his success in professional money management, Eric joined the Wall Street-based publishing operations of James Grant, editor of the prestigious Grant's Interest Rate Observer. Working alongside Grant, Eric produced Grant's International and Apogee Research, research products geared for professional money managers.
In 2016, Eric won the Portfolios with Purpose competition — Wall Street's most prestigious investment competition — beating 650 of the biggest names in finance with a 12-month return of 150%.
In professional circles, Eric is known for his extraordinary long-term track record, which includes numerous "10-bagger" calls, like buying Asian stocks during the depths of its late-90s currency crisis, buying Russian stocks during its debt-currency crisis, buying commodities in the early 2000s, right before their historic rally into 2007, and buying stocks in 2015 that would benefit from the Electric Vehicle boom, just at those stocks were gaining big momentum.
Eric's record on the short side of the market is just as remarkable. He's known for successfully shorting numerous technology stocks in 2000 and 2001, as those stocks sputtered toward bankruptcy … and for his predictions in 2005 and 2006 that the housing boom would go bust and drive government mortgage firms Fannie Mae and Freddie Mac into bankruptcy.
Eric's views and investment insights have appeared in numerous publications including Time, Barron's, Wall Street Journal, International Herald Tribune, Business Week, USA Today, Los Angeles Times and Money. His book, International Investing With ADRs: Your Passport to Profits Worldwide, was the first comprehensive guide to investing in foreign companies using ADRs.

Join InvestorPlace Insights — FREE!
Get actionable advice from our top experts, including the hottest stocks to buy & sell, 401k and retirement tips, market analysis and more!
Recent Articles
PayPal stock has already jumped in 2020. However, it could have much farther to run as stores rush to promote contactless payments.
Dunkin' Brands is set to shine in a post-Covid-19 world. Its partnerships with delivery services will be the catalyst for revenue growth.
Some people are taking profits in gold and gold miners now. But, like in 2008, gold will surprise skeptics by running far higher than traders expect.
Moderna pulled in a massive $483 million government grant to develop a Covid-19 vaccine. As a result, MRNA stock will continue to be a winner.
Activision has already capitalized on the building eSports momentum in recent years. The pandemic is supercharging this trend.