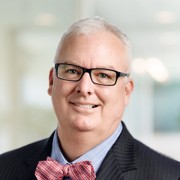 Jim Lowell
Editor, Fidelity Investor
About Jim Lowell
James Lowell is a former investment columnist for Forbes Magazine and the Editor of the multiple award-winning independent newsletter, Fidelity Investor.
James is also partner and chief investment strategist of Adviser Investments, a private money management firm advising on over $1 billion, based in Newton, MA. (Adviser Investments receives no fees or compensation from any fund family, nor does it sell or promote investment or insurance products. It is a fee-only firm.) Before joining Adviser Investments, Lowell was the Chief Portfolio Strategist for the Boston-based investment bank of Adams, Harkness & Hill.
He also pens the weekly electronic Fidelity Sector Investor and the customized, independent 401(k) Focus service. He is also the founding Editor of The ETF Trader on Marketwatch from Dow Jones; is featured monthly as an investment strategist columnist on Marketwatch; and is also the Editor-in-Chief of The Forbes ETF Advisor by Jim Lowell.
The founder and Chairman of The Rankings Service, James is a recognized authority on investing. The Rankings Service is an independent, objective, third party research service for institutional clients, providing proprietary review, analysis and monitoring of individual investment manager performance.
He has also written several books on investing, including Investing from Scratch (revised edition, Penguin, 2006) and What Every Fidelity Investor Needs to Know (Wiley, 2007).
James is a weekly contributor on Fox Business News and has written and lectured extensively on investing and personal finance for national audiences, magazines, TV, radio and online media including Bloomberg (radio and TV), CNN, CNBC and PBS' Nightly Business Report. His market views and opinions appear frequently in such publications as Barrons, Business Week, The New York Times, The Wall Street Journal, Fortune, Investment News, Money and Smart Money to name but a few.

Join Fund Focus Weekly — FREE!
Get the best funds to buy and sell from leading Vanguard & Fidelity experts Dan Wiener, Jeff DeMaso and Jim Lowell.
Premium Services

In Fidelity Investor, Jim Lowell deploys his proprietary Manager Ranking System to find you the best funds from the best managers at his favorite mutual-fund family, Fidelity Investments.
Mutual Funds & ETFs

Any

Ratings published monthly

In Fidelity Sector Investor, Jim Lowell helps answer the perennial question: "What are the best sectors to own now?" His FSI algorithm helps you trade into the right funds to get the best returns out of each sector in the market.
Mutual Funds & ETFs

Moderate to Aggressive

Monthly trades
Recent Articles
Picking the right stocks for the most value can be difficult; however, the Fidelity Mega Cap Stock (FGRTX) fund makes this task simple.
If you're loading up your quiver for July, don't buy passively managed ETFs. Be smart and buy these actively managed Fidelity funds instead.
Fidelity Large-Cap Growth Enhanced Fund (FLGEX) has amassed nearly a billion dollars in assets, but investors should keep their eye on FBGRX.
This group of Fidelity 401k funds spans equities and bonds, and will get you to retirement quickly, safely and without overpaying.
The best Fidelity ETFs to hold right now include this trio of funds that will thrive regardless of who enters the White House in November.