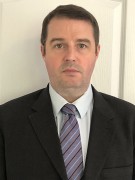 Joel Baglole
Joel Baglole has been a financial reporter for more than 20 years. For five years, Mr. Baglole was a staff reporter at The Wall Street Journal, where he wrote articles from Iceland to Indonesia and covered topics ranging from the automotive and airline industries to investment banks and global stock markets.
Mr. Baglole has also worked for The Washington Post and Toronto Star newspapers and contributed to business focused websites such as The Motley Fool and Investopedia. Mr. Baglole lives in Ottawa, Canada with his wife and three children.

Join InvestorPlace Insights — FREE!
Get actionable advice from our top experts, including the hottest stocks to buy & sell, 401k and retirement tips, market analysis and more!
Recent Articles
What has driven the #AMCArmy of retail investors to drive the share price of AMC sky high has been the fact that the world's largest movie theatre chain was pushed to the edge of bankruptcy by the Covid-19 pandemic. But AMC's problems are not unique. The entire movie industry, from production to exhibition, has been devastated by the pandemic and many companies have struggled just like AMC.
Jumia Technologies is ambitious, but its efforts to dominate the African continent have yet to bare any fruit. Investors of JMIA stock beware.
American bank stocks have already had a big rally this year in anticipation of the economic reopening and higher inflation environment. So far in 2021, the benchmark Dow Jones U.S. Banks Index has risen 33% as Covid-19 vaccinations accelerate and U.S. states ease restrictions. With the U.S. economy expected to fire-up in this year's second half, we look at the seven best financial stocks to buy for a season of reflation.
Seen as a legitimate domestic threat to the reign of Tesla, Lucid Motors is at the production stage with its high-end electric sedan known as the "Lucid Air," which retails for as much as $161,500 for the top trimline. With plans to begin deliveries next year, many analysts think the Lucid Motors merger could help to reignite investor interest in the electric vehicle sector that has cooled off since its red hot bull run last year.
Value investors look for inexpensive stocks that have growth potential. They often see low cost stocks as being on sale or undervalued. In this article, we dive into seven stocks to buy right now for under $10.