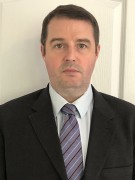 Joel Baglole
About Joel Baglole
Joel Baglole has been a financial reporter for more than 20 years. For five years, Mr. Baglole was a staff reporter at The Wall Street Journal, where he wrote articles from Iceland to Indonesia and covered topics ranging from the automotive and airline industries to investment banks and global stock markets.
Mr. Baglole has also worked for The Washington Post and Toronto Star newspapers and contributed to business focused websites such as The Motley Fool and Investopedia. Mr. Baglole lives in Ottawa, Canada with his wife and three children.

Join InvestorPlace Insights — FREE!
Get actionable advice from our top experts, including the hottest stocks to buy & sell, 401k and retirement tips, market analysis and more!
Recent Articles
While a merger with Comcast appears unlikely, there is still plenty of reason for investors to consider taking a position in VIAC stock.
PINS stock dropped 23% immediately after the company announced its second quarter results on July 29 and the shares now trade at $58.90. Shares of Pinterest are now down 13% since the first trading day in January. While the stock was enduring ups and downs throughout the past seven months, the latest earnings appear to have dropped the floor out from underneath the company.
A diverse collection of companies are have their earnings reports next week, which should provide insights into the economic reopening.
New innovations and changes in industry standards have auto stocks operating more and more like tech stocks to deliver modern experiences.
Until Novavax secures FDA approval of its Covid-19 vaccine, investors should not buy NVAX stock, which has fallen 10% in recent days.