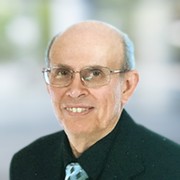 Ken Trester
Editor, Power Options Weekly
As the nation's foremost professional options trader, Ken Trester isn't just another "options educator." He's a pro who has been trading options since the first exchanges opened in 1973. In fact, he has documented 27-straight winning years publishing recommendations for traders.
Ken puts his money where his mouth is and actively trades his own account as part of his popular Maximum Options trading service. Using his own proprietary system called the Power-Plus Profit Tracker, he uncovers cheap, underpriced options trades for his subscribers. Since InvestorPlace began publishing Maximum Options in 2008, Ken has guided his subscribers to profits almost 80% of the time.
Most recently, Ken has launched a new trading service: Power Options Weekly. Subscribers receive his top five Quantum QTX trades, complete with full entry/exit instructions, via email each week.
Ken has also written two books on options: 101 Option Trading Secrets and The Complete Option Player, now in its fourth edition and among the best-selling options books ever.
He is also widely quoted in publications such as Technical Analysis of Stocks & Commodities and Barron's. He has earned considerable respect as a financial analyst and a highly sought lecturer at investment seminars throughout the United States.
Ken has an MBA and has also worked as a stockbroker, an investment manager and as a computer science professor at Golden West College in Huntington Beach, California, where he taught a wildly popular course on stock options trading.

Join Trade of the Day — FREE!
Get real-time stock & options trades from our all-star lineup of trading pros delivered to your inbox every trading day of the year.
Recent Articles
To avoid going against the action in the market, I'm recommending a bullish call option on Slack Technologies, Inc. (NYSE:WORK).
This morning, futures are pointing higher, and since I'm not going to go against the tape, I'm recommending a bullish trade on Citigroup, Inc. (NYSE:C).
Today I'm looking at the other side of medical-adjacent stocks to recommend a bearish position on Varex Imaging Corporation (NASDAQ:VREX).
This morning, I'm looking at Lakeland Industries, Inc. (NASDAQ:LAKE), the personal protective equipment (PPE) manufacturer.
Luckin Coffee (LK) has been burdened with scandals since April, and that has hindered its recovery even as the rest of China tries to move on after COVID-19.