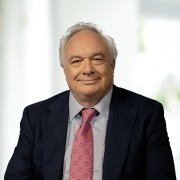 Louis Navellier
Editor, Growth Investor
New York Times
An icon among growth stock investors
About Louis Navellier
Louis Navellier is one of Wall Street's renowned growth investors. Providing investment advice to tens of thousands of investors for more than three decades, he has earned a reputation as a savvy stock picker and unrivaled portfolio manager.
Over his 35-year investing career, Louis Navellier has established one of the most exceptional long-term track records of any financial newsletter editor in America, and he offers a wide range of simple yet powerful tools that can help all investors to significantly beat the market.
His popular Growth Investor advisory service, established in 1998, has beaten the S&P 500 by a margin of 3-to-1 over the past 17 years.
Navellier continues to build on those stellar records, and while his methodology is rigorous and complex, his goal has been simple, and has been so from the beginning: to uncover Wall Street's inconsistencies and help investors beat the market with less risk in the market's best growth stocks. Today, he helps individual investors across the nation and across the globe achieve their financial dreams through his unique newsletter services.
The New York Times called Mr. Navellier "an icon among growth stock investors," and the media frequently turns to Louis for his expert opinion. He appears regularly on CNBC and Fox Business News and is frequently quoted by MarketWatch, Bloomberg and The Wall Street Journal.
Navellier is an accomplished Wall Street insider as well. He and his team of more than 50 professional analysts and staff manage over $5 billion in mutual funds and institutional accounts through his fund management company, Navellier & Associates.
Louis Navellier also travels the country hosting free seminars for individual investors, and is the author of The Little Book That Makes You Rich, named one of the Top 10 Investing Books of 2007 by SFO Magazine.

Join Louis Navellier's Market 360 — FREE!
Get Louis Navellier's take on the news and events impacting the market, plus advice on the best stocks to buy & sell now.
Recent Articles
It's little surprise that some of the companies behind the Covid-19 vaccines have seen their stocks rise. Here's how investors can benefit.
The main catalyst behind yesterday's selling was over the Covid-19 delta variant. But here's why there's more to take into account.
With second-quarter earnings season now underway, let's take a closer look at how the group of big banks performed during the period.
One great way to play the chip shortage is to look for fundamentally superior stocks poised to use the situation to their advantage.
Fast internet has become absolutely essential to our daily lives. Here's why that bodes well for 5G right now.