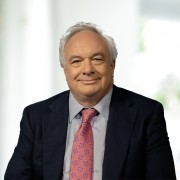 Louis Navellier
Editor, Growth Investor
New York Times
An icon among growth stock investors
Louis Navellier is one of Wall Street's renowned growth investors. Providing investment advice to tens of thousands of investors for more than three decades, he has earned a reputation as a savvy stock picker and unrivaled portfolio manager.
Over his 35-year investing career, Louis Navellier has established one of the most exceptional long-term track records of any financial newsletter editor in America, and he offers a wide range of simple yet powerful tools that can help all investors to significantly beat the market.
His longest-running publication, Breakthrough Stocks (formerly Emerging Growth), has beat the S&P 500 by a margin of 6-to-1 over the past 17 years. His popular Growth Investor advisory service, established in 1998, has beaten the S&P 500 by a margin of 3-to-1 over the past 17 years.
Accelerated Profits (fomerly Ultimate Growth) hones in on the market's top 1% of stocks about to be hit with a massive growth surge. The track record of this service speaks for itself, with a record of beating the market a whopping 8-to-1.
Navellier continues to build on those stellar records, and while his methodology is rigorous and complex, his goal has been simple, and has been so from the beginning: to uncover Wall Street's inconsistencies and help investors beat the market with less risk in the market's best growth stocks. Today, he helps individual investors across the nation and across the globe achieve their financial dreams through his unique newsletter services.
The New York Times called Mr. Navellier "an icon among growth stock investors," and the media frequently turns to Louis for his expert opinion. He appears regularly on CNBC and Fox Business News and is frequently quoted by MarketWatch, Bloomberg and The Wall Street Journal.
Navellier is an accomplished Wall Street insider as well. He and his team of more than 50 professional analysts and staff manage over $5 billion in mutual funds and institutional accounts through his fund management company, Navellier & Associates.
Louis Navellier also travels the country hosting free seminars for individual investors, and is the author of The Little Book That Makes You Rich, named one of the Top 10 Investing Books of 2007 by SFO Magazine.

Join Louis Navellier's Market 360 — FREE!
Get Louis Navellier's take on the news and events impacting the market, plus advice on the best stocks to buy & sell now.
Recent Articles
Matt McCall won our friendly wager on which would reach 40K first -- bitcoin or the Dow. But, I don't believe the Dow is far behind.
There's a lot of potential in the healthcare space thanks to new technologies, and we believe that we have found the best high-quality stocks to play the massive upside.
Matt McCall, and Louis Navellier have found a better way to play the cloud. The picks-and-shovels companies they focus on are using the cloud to ring in fundamentally superior sales and earnings.
Luckily, the volume was light Monday, so the pullback looked more like a market pause and a good buying opportunity for fundamentally superior stocks.
While Louis Navellier's investment strategy at Growth Investor is not changing in 2021, there are a few big changes on the horizon you should be aware of.