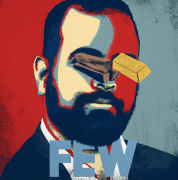 Michael A. Gayed
Michael A. Gayed is the Publisher of The Lead-Lag Report, and Portfolio Manager at Tidal Financial Group, an investment management company specializing in ETF-focused research, investment strategies and services designed for financial advisors, RIAs, family offices and investment managers.
Prior to Tidal Financial Group, Michael was the Co-Portfolio Manager and Chief Investment Strategist at Pension Partners, LLC, an investment advisor managing mutual funds and separate accounts.
He is the author of five award-winning research papers on market anomalies and investing. Michael was an active contributor to MarketWatch for a number of years and has been interviewed on CNBC, Bloomberg, and Fox Business, as well as the Wall Street Journal Live for his unique approach to interpreting market movements.
Michael earned his Bachelor of Science degree with a double major in Finance & Management at NYU Stern School of Business. Michael became a CFA Charterholder in 2008.
InvestorPlace readers that are new subscribers to the The Lead-Lag Report can receive a 30% discount by entering the promo code "InvestorPlace30" with your order.