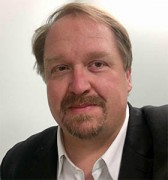 Patrick Sanders
InvestorPlace Contributor
Patrick Sanders is a freelance writer, editor and stock market expert. He is founding editor of Invested, a daily stock market newsletter published by U.S. News & World Report, and he managed U.S. News' investing advice section from 2015 to 2019.
He previously was deputy managing editor of InvestorPlace.com. He operated news websites in southeast Europe and Turkey, was the founding managing editor of the New York Times Editing Center and was Connecticut news editor for The Associated Press.
Patrick has made numerous media appearances as a stock market analyst and appeared on panels to discuss personal finance and investing. He served on the board of governors of the Society for Advancing Business Editing and Writing, and was co-chairman of the training committee to promote and develop training opportunities for business journalists throughout North America.
Patrick is a graduate of Marshall University and now resides in Maryland. Follow him on Twitter or connect on LinkedIn.

Join InvestorPlace Insights — FREE!
Get actionable advice from our top experts, including the hottest stocks to buy & sell, 401k and retirement tips, market analysis and more!
Recent Articles
Royal Caribbean won't see revenues to speak of until cruise ships are back in the water, but investors shouldn't give up on RCL stock yet.
Virgin Galactic has no revenue, is diluting shares and has a very small potential market. SPCE stock is just a bad investment opportunity.
Nvidia is up big so far in 2020, and there are plenty of reasons to believe the trend will continue for NVDA stock after its earnings report.
Nio stock is in an enviable position as a favored company operating alongside a government that is keenly interested in homegrown success.
Wells Fargo continues to underperform compared to its competitors and it can't put perception problems in the past. Avoid Wells Fargo stock.