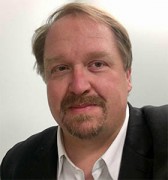 Patrick Sanders
InvestorPlace Contributor
Patrick Sanders is a freelance writer, editor and stock market expert. He is founding editor of Invested, a daily stock market newsletter published by U.S. News & World Report, and he managed U.S. News' investing advice section from 2015 to 2019.
He previously was deputy managing editor of InvestorPlace.com. He operated news websites in southeast Europe and Turkey, was the founding managing editor of the New York Times Editing Center and was Connecticut news editor for The Associated Press.
Patrick has made numerous media appearances as a stock market analyst and appeared on panels to discuss personal finance and investing. He served on the board of governors of the Society for Advancing Business Editing and Writing, and was co-chairman of the training committee to promote and develop training opportunities for business journalists throughout North America.
Patrick is a graduate of Marshall University and now resides in Maryland. Follow him on Twitter or connect on LinkedIn.

Join InvestorPlace Insights — FREE!
Get actionable advice from our top experts, including the hottest stocks to buy & sell, 401k and retirement tips, market analysis and more!
Recent Articles
Dollar General stock is one of the best-performing names in the retail space. As the U.S. heads toward a recession, DG stock will shine.
Beyond Meat is growing quickly and now it's turning a profit. As meat shortages weigh on the industry, expect BYND stock to get a boost.
ZM stock is up 115% so far this year, but Zoom is getting competition from plenty of bigger competitors, including MSFT, GOOG and FB.
Positive earnings won't come early for Delta, but for long-term investors, DAL stock represents a huge opportunity with a 72% upside.
Wells Fargo's big yield and strong payout history make WFC stock a good pick for dividend investors, particularly as the market weakens.