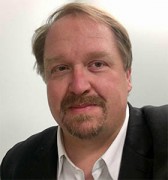 Patrick Sanders
InvestorPlace Contributor
Patrick Sanders is a freelance writer, editor and stock market expert. He is founding editor of Invested, a daily stock market newsletter published by U.S. News & World Report, and he managed U.S. News' investing advice section from 2015 to 2019.
He previously was deputy managing editor of InvestorPlace.com. He operated news websites in southeast Europe and Turkey, was the founding managing editor of the New York Times Editing Center and was Connecticut news editor for The Associated Press.
Patrick has made numerous media appearances as a stock market analyst and appeared on panels to discuss personal finance and investing. He served on the board of governors of the Society for Advancing Business Editing and Writing, and was co-chairman of the training committee to promote and develop training opportunities for business journalists throughout North America.
Patrick is a graduate of Marshall University and now resides in Maryland. Follow him on Twitter or connect on LinkedIn.

Join InvestorPlace Insights — FREE!
Get actionable advice from our top experts, including the hottest stocks to buy & sell, 401k and retirement tips, market analysis and more!
Recent Articles
With a new CEO and the upcoming 5G rollout, Nokia stock has a better-than-average chance of breaking out of longtime slump.
While it's no guarantee that NVAX stock will be the ultimate winner from a Covid-19 vaccine, investors should pay attention to Novavax.
Fastly is one of the best stocks to buy during the coronavirus. With bearish sentiment picking up, you can now buy FSLY stock on the dip.
Crowdstrike has been a solid pandemic play as companies are letting employees work from home. Strong growth should continue for CRWD stock.
Starbucks will post a loss when it reports fiscal third-quarter earnings on July 28, but there are other numbers to consider for SBUX stock.