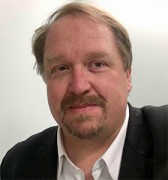 Patrick Sanders
InvestorPlace Contributor
Patrick Sanders is a freelance writer, editor and stock market expert. He is founding editor of Invested, a daily stock market newsletter published by U.S. News & World Report, and he managed U.S. News' investing advice section from 2015 to 2019.
He previous was deputy managing editor of InvestorPlace.com. He operated news websites in southeast Europe and Turkey, was the founding managing editor of the New York Times Editing Center and was Connecticut news editor for The Associated Press.
Patrick has made numerous media appearances as a stock market analyst and appeared on panels to discuss personal finance and investing. He served on the board of governors of the Society for Advancing Business Editing and Writing, and was co-chairman of the training committee to promote and develop training opportunities for business journalists throughout North America.
Patrick is a graduate of Marshall University and now resides in Maryland. Follow him on Twitter or connect on LinkedIn.

Join InvestorPlace Insights — FREE!
Get actionable advice from our top experts, including the hottest stocks to buy & sell, 401k and retirement tips, market analysis and more!
Recent Articles
These companies offer strong track records and large-cap statuses, but they also make great dividend stocks for today's portfolios.
Bank stocks are reporting Q4 earnings starting this week, but investors should be paying more attention to 2020 guidance. Here's what to look for.
Amazon Prime Day was mocked on Twitter and other social media sites for unusual offerings. But AMZN says its sales were great.
While analysts were surprised by Ford's weak sales figures in February, Ford stock still has plenty of room for growth this year.
GMCR sells billions of non-recyclable coffee pods each year, but now is on the verge of an environmental backlash that threatens to put a drag on earnings in 2015.