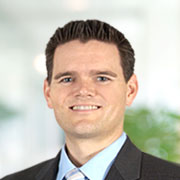 Wade Hansen
Editor, Strategic Trader
Wade Hansen has been involved in investor education for his entire career. Most recently, he co-founded Learning Markets and PFX Global to help individual investors learn to take control of their investment portfolios.
He has also created investment courses in stock, options, futures and forex trading for Yahoo! Finance, Saxo Bank and the thinkorswim Group.
Wade has an MBA from the University of Utah and a B.A. in Communications from Brigham Young University. He is actively involved in managing his own stock, options and forex portfolio.
Wade is the co-author of the book Profiting with Forex, published in 2006 by McGraw Hill. He has also written articles for Forbes, Yahoo! Finance, Stocks & Commodities Magazine and NASDAQ.com. Wade's investment commentary and educational articles are regularly featured across the web and at www.learningmarkets.com.
But Wade also has another skill set that is equally important to your trading success. He is both a natural-born teacher and coach, talents he also showcases at Strategic Trader, Learning Markets and PFX Global, which he co-founded with fellow Strategic Trader editor and strategist John Jagerson.
Wade is co-editor of Strategic Trader where he combines two great passions in order to help investors gain more confidence and make bigger profits trading stocks, covered calls, short puts and both levered and unlevered exchange-traded funds. He lives and breathes investing — virtually every aspect of it, from stocks and options to futures and Forex.