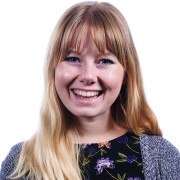 Sarah Smith
Editor-in-Chief, InvestorPlace.com
Expertise:
ESG Investing, Electric Vehicle Stocks, Short Squeeze Stocks
Education:
BA, Government and Gender, Sexuality and Women's Studies, The College of William & Mary
Awards & Accomplishments:
Top 5% of stock pickers on TipRanks
About Sarah:
Sarah Smith is an experienced editor and writer who works to help retail investors make sense of what's happening every day on Wall Street, and she's particularly interested in ESG investing, EV stocks, and the rise of speculative trading activity like short squeezes. She has also written for Kiplinger.com, Smithsonian, and Washington City Paper. Sarah is currently working to become a Chartered Financial Analyst (CFA) and has already earned bachelor's degrees in Government and Gender, Sexuality and Women's Studies from the College of William and Mary. Her work for InvestorPlace.com focuses on helping investors understand the causes and impacts of daily stock and crypto market movements, and how a disruption in who invests – and how they invest – transforms the market. Sarah is recognized among the top 5% of stock pickers on TipRanks and has an average return of 50%. She lives in Arlington, Virginia.
Connect with Sarah on LinkedIn.
Recent Articles
GME stock is down 6% in after-hours trading following a memo from CEO Matt Furlong to employees announcing GameStop layoffs.
News of a GameStop stock split proposal lifted GME stock in after-hours trading. Here is what you need to know about the big split plans.
What was the Fed interest rate decision today? And what does it mean for the market? Wall Street is closely watching the Federal Reserve.
AMZN stock fans are reacting positively to news that Amazon stock will split on a 20-for-1 basis. When is the stock split date?
OPEN stock is gaining steam this week because Zillow just created an opportunity in the iBuying business. Here's what to know.

Join InvestorPlace Insights — FREE!
Get actionable advice from our top experts, including the hottest stocks to buy & sell, 401k and retirement tips, market analysis and more!