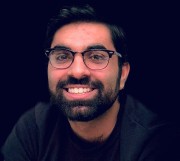 Shrey Dua
InvestorPlace Assistant News Writer
About Shrey Dua
Shrey Dua has a lifelong background in journalism. Since joining InvestorPlace as part of the Today's Market team, he's covered everything from cryptocurrencies and financial disclosures to highly anticipated IPOs and SEC investigations.
Shrey's background is dominated by local journalism, exploring small-town elections and voicing community concerns. Regardless of the context, his audience has always remained his upmost focus. The accessibility of his writing ensures that even an absolute novice can glean a strong understanding of a given topic or event.
Lately, he's taken a particular fascination in financial regulation, particularly the SEC's role in insuring a fair market environment for both businesses and investors.
If you're interested in reading more of his work, you can find many of his articles here on Entrepreneur.com and MuckRack.com.

Join InvestorPlace Insights — FREE!
Get actionable advice from our top experts, including the hottest stocks to buy & sell, 401k and retirement tips, market analysis and more!
Recent Articles
Upstart is well in the red today after an onslaught of lawsuits against the AI loan company. UPST stock closed down 13%.
ROKU stock is now the top holding in Cathie Wood's premier Ark Innovation ETF, dethroning reigning king Tesla.
Dr. Michael Burry, who earned millions by betting against the housing market in 2008, has a new short position. This time it's on AAPL stock.
Apple is reportedly closer than ever to the release of its much-anticipated mixed-reality headset. AAPL stock is down 2.5% despite the news!
Polestar recently announced promising financial results for the first quarter of 2022. Now GGPI stock is up on the news.