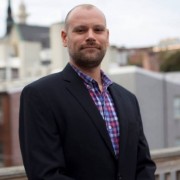 Sean McCloskey
Sean began his professional career writing tech articles for a small consumer reporting firm before transitioning into educational publishing. In his six years as an editor and instructional designer he helped create multiple e-learning courses in economics, healthcare, business and computer science.
After leaving educational publishing Sean re-devoted himself to one of his biggest passions, writing about cutting-edge tech trends and the lucrative, growing cannabis market. As former managing editor for the e-letters Technology Profits Daily, Seven Figure Society and Mike Burnick's Wealth Watch, Sean has developed a stellar track record delivering readers unique opportunities to grow their wealth.
Today, he continues to focus his efforts on delivering the most valuable market insights as a contributor for InvestorPlace and as lead tech analyst for The Wealthy Tech Investor.

Join InvestorPlace Insights — FREE!
Get actionable advice from our top experts, including the hottest stocks to buy & sell, 401k and retirement tips, market analysis and more!
Recent Articles
AMD stock is weathering the coronavirus storm better than most and this sign of relative strength points to great things for shareholders in this year.
Aurora stock has a massive wall of worry it has to climb, and I expect more than a few missteps that eventually lead to total collapse.