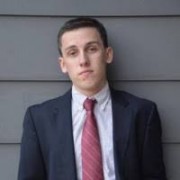 Samuel O'Brient
InvestorPlace Financial News Writer
About Samuel O'Brient
Samuel O'Brient is a Financial News Writer for InvestorPlace. As a member of Today's Market, he has written extensively on Tesla as well as many other stocks within the electric vehicle (EV) sector. His other areas of expertise include international trade, consumer staples and emerging areas of finance such as non-fungible tokens (NFTs). An experienced journalist, editor and policy analyst, he has spent his career guided by a deep passion for economic theory and policy.
From his early days at InvestorPlace, O'Brient found himself drawn to the booming world of EVs. His coverage of the mining and component stocks have led authors from other outlets to ask for his take on the future of the industry. During his early years as an Economic Policy Analyst at U.S. Resist News, he gained expertise in international trade as the U.S. China trade war dominated headlines. This in-depth research and analysis experience helped strengthen his prowess in political economy, helping him correctly predict that Donald Trump would not win in 2020 simply based on the stock market and broader economy. He has since brought this passion to InvestorPlace, providing in-depth analysis throughout the rise of the 'Trump trades,' such as Digital World Acquisition Corp (DWAC) and CF Acquisition Corp VI (CFVI).
O'Brient's extensive research into global trade and media coverage as a postgraduate student at Trinity College Dublin helped broaden his expertise and shape his passions for both international trade policy and financial journalism. He brings this expertise to work with him every day, analyzing stocks across many different sectors and evaluating new market and company developments.
Not only a stock expert, though, O'Brient has spoken with leaders in both the tech and financial spaces to better understand the rapidly changing world of digital assets, from NFTs to meme tokens. He is credited with being early to recognize the power of pupcoin Floki Inu and helping investors understand what an early investment in the token could mean.
O'Brient is easily reachable on Twitter and LinkedIn as well as Muck Rack. His work has been featured on venues such as TUN (The University Network), Curiosity Shots, My Side of the Aisle, U.S. Resist News and Medium publications Marker and Gen.

Join InvestorPlace Insights — FREE!
Get actionable advice from our top experts, including the hottest stocks to buy & sell, 401k and retirement tips, market analysis and more!
Recent Articles
Dan Ives has reduced his TSLA stock price target due to China headwinds. Here's why investors shouldn't be worried about Tesla's future.
TSLA stock is down today after the company's was removed from the S&P 500 ESG index. Here's why Tesla CEO Elon Musk isn't happy.
Multiple Wall Street analysts have slashed their TSLA stock price targets. Investors still shouldn't be worried about Tesla. Here's why.
Truth Social is now available via web applications. Here's why DWAC stock is still falling and why the platform can't take on Twitter.
Forge Global just reported Q1 2022 earnings. While the report wasn't all positive, FRGE stock is still shooting up today.