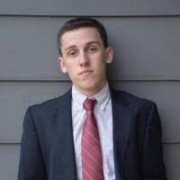 Samuel O'Brient
InvestorPlace Financial News Writer
Expertise:
Economic Policy, Electric Vehicle Stocks, NFTs
Education:
BA, Economics & Political Science, Sarah Lawrence College; MSc, International Politics, Trinity College Dublin
Awards & Accomplishments:
Published in Curlew Quarterly. Quoted in Forbes. Interviewed by Foreign Policy.
About Samuel
Samuel O'Brient is a Financial News Writer for InvestorPlace. As a member of Today's Market, he has written extensively on Tesla as well as many other stocks within the electric vehicle (EV) sector. His other areas of expertise include international trade, consumer staples and emerging areas of finance such as non-fungible tokens (NFTs). An experienced journalist, editor and economic policy analyst, he has spent his career guided by a deep passion for economic theory and policy. As a financial blogger on TipRanks, he has received 4.5 stars and is ranked in the top 15% of stock pickers.
From his early days at InvestorPlace, O'Brient found himself drawn to the booming world of EVs and green energy. His coverage of the mining and component stocks have led authors from other outlets to ask for his take on the future of the industry. During his early years as an Economic Policy Analyst at U.S. Resist News, he gained expertise in international trade as the U.S. China trade war dominated headlines. This in-depth research and analysis experience helped strengthen his prowess in political economy, helping him correctly predict that Donald Trump would not win in 2020 simply based on the stock market and broader economy. He has since provided in-depth analysis throughout the rise of the 'Trump trades,' such as Digital World Acquisition Corp (DWAC) and CF Acquisition Corp VI (CFVI). O'Brient brings this expertise to work with him every day, analyzing stocks across many different sectors and evaluating new financial market developments.
O'Brient's work on economic and tech policy has been curated by popular outlets Marker, OneZero and Gen.