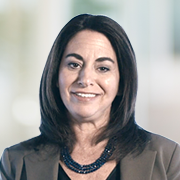 Stefanie Kammerman
Stefanie Kammerman has devoted the past 26 years to studying the Dark Pool market phenomenon. She cut her teeth trading for Schonfeld Securities, one of the world's largest and most prestigious proprietary trading firms. The firm staked traders with capital, supplied them with cutting-edge technology and information, and shared trading profits with them.
In her first year, the executives named her "Rookie of the Year"… and she eventually acquired the nickname "Trading Goddess."
After leaving full-time trading to start a family, Stefanie began making a Wall Street-size income trading from home. Now that the kids are grown, she trades full time while publishing her analysis of the Dark Pools and the short-term trading opportunities they create.
While at Schonfeld, Stefanie says, she learned a critical secret for making short-term profits in the stock market: "Follow the money."
And the best place to follow the money, Stefanie says, is the Dark Pools.
Thanks to their analysis of the Dark Pools, she and her fellow traders had insight into when and where large trades — virtual tidal waves of capital — were poised to enter the market and move prices.
Fundamentals matter over the long term, but when it comes to trading short-term moves, Stefanie says that traders need to know what giant buyers and sellers are doing… at that moment.
If you want to make big money trading short-term moves — if you want to profit from those big unexplained stock moves we all see so often — don't follow the fundamentals. Follow the money… the Dark Pool money.
Stefanie is also the author of the book Dark Pool Secrets. These days, she trades from her own account and publishes her commentary from a beautiful condo off the Las Vegas strip.