#6 Negative Gamma is Not Your Friend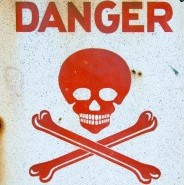 When you are short options, you are short gamma, and most of the time that's not a problem. You were paid a nice price for the options and are watching those options evaporate at a decent rate.
But this is not free money. There is risk that the stock may make a move large enough so that it threatens to move into the money.
When you are short options, they come with negative gamma, and it's the big, bad enemy. When the reward is small, respect this guy and get outta town. Cover those gamma shorts, take you good-sized profit, and don't bother with the crumbs. Let the gamblers have those.