It's no secret that Warren Buffett loves trains — after all, his Berkshire Hathaway (BRK.A) ponied up a whopping $26 billion for Burlington Northern Santa Fe in 2010.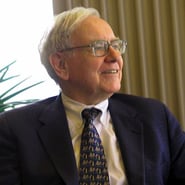 And the Oracle of Omaha is still a fan. As he told CNBC on Monday:
"All of the rails have done well recently…As long as more goods move from place to place in this country, rails are going to get their share and it should be a very profitable business."
Despite headwinds like sluggish economic growth and declining coal volumes, the right railroad stocks still make sense for the value investor. Here's why: This year's brutal winter sent natural gas prices soaring — which caused many utilities to fire up coal plants again to keep the lid on electricity costs. And 70% of that coal travels by rail.
But the biggest reason for Buffett's continued confidence in railroad stocks is the recent boom in North American oil production — particularly from North Dakota's Baaken shale formation. With delays in approval of the Keystone XL pipeline, some 400,000 carloads of crude oil moved by rail last year — more than 40 times the number of carloads transported in 2008, according to the Association of American Railroads.
But railroad stocks will not rise or fall on shale oil transport alone: Drilling is providing growth in so-called "frac sand" and related minerals. Railroads also are making a big play in the intermodal sector — hauling containerized freight. The auto industry is rising, too — both finished vehicles and parts. Since a train can move a ton of freight 476 miles on a single gallon of diesel fuel — four times more efficiently than by truck — freight rail stocks are poised to keep delivering.
Here are three hot railroad stocks to buy if you want to be like Warren Buffett: