With the exception of a new stake in Verizon (VZ), Warren Buffett and Berkshire Hathaway (BRK.B) had a quiet quarter of buying and selling stocks.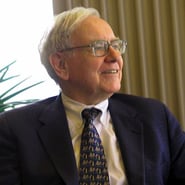 Berkshire Hathaway disclosed a new position in Verizon of more than 11 million shares worth about $524 million. Given the comparatively small stake in Verizon — less than 1% of the company — it was probably initiated by one of Warren Buffett's investment managers.
The telecommunications industry is going through a period of consolidation, perhaps making Verizon attractive to Berkshire Hathaway. Verizon acquired joint venture Verizon Wireless after buying out Vodafone's (VOD) stake in the company. Furthermore, AT&T (T) is preparing an offer for DirecTV (DTV), according to media reports.
However, at the same time, Berkshire Hathaway cut a stake in DirectTV by 5%, selling 2 million shares.
At any rate, Verizon has a dividend yield of 4.4%, which would generate about $23 million in annual payouts for Warren Buffett and Berkshire Hathaway.
Warren Buffett Sells Some GM, Buys More IBM
The biggest move made by Berkshire Hathaway was the reduction in their holdings of General Motors (GM). Berkshire Hathaway sold 25% of its position in the beleaguered auto maker, selling 10 million shares. GM is under fire for recalls for a variety of problems, amounting to 12.8 million vehicles worldwide.
Warren Buffett pared the stake in Phillips 66 (PSX) by 64% or more than 17 million shares, although that could have been related to Berkshire Hathaway acquiring sole ownership of Phillips 66's pipeline services business.
Berkshire Hathaway also reduced its holdings of Starz (STRZA) by 57% or 2.6 million shares.
On the other side of the ledger, Warren Buffett and Berkshire Hathaway upped stakes in a couple of blue chips. The company raised its holdings of Walmart (WMT) by 17%, or 8.6 million shares. Additionally, Warren Buffett and Berkshire Hathaway bought another 233,100 shares of International Business Machines (IBM), increasing its position by less than 1%.
The relatively quiet quarter of buying and selling equities dovetails with Berkshire Hathaway's focus on owning companies outright rather than investing in them.
It's also noteworthy that Warren Buffett and Berkshire Hathaway couldn't find any investments in which to start a new, positions valued at more than a billion dollars. Warren Buffett calls such investments "hunting elephants," and they are initiated by him alone.
That means the small and sleepy quarter of buying and selling was almost certainly the work of investment managers Todd Combs and Ted Weschler, whom Warren Buffett is grooming to take leadership of Berkshire Hathaway one day.
As of this writing, Dan Burrows did not hold a position in any of the aforementioned securities.