The NCAA Men's Final Four weekend is set to start on Saturday, with Kentucky, Louisville, Kansas and Ohio State all looking to claim the national title on Monday night at the Superdome in New Orleans.
As always seems to be the case, the tournament has delivered with great games, great story lines and, of course, lots of commercials. Indeed, from a business perspective, the tournament is a marketing and cash-generating machine, second only to the Super Bowl in terms of money making sporting events.
Naturally, there are a lot of companies associated with March Madness, both directly and indirectly. For many of them, tournament time means a big revenue boost. For others, it means a chance to advertise to a huge audience. Still others benefit from the interest generated in hoops, and from sales of the sports-related gear inspired by the fantastic athletes who create the on court magic.
In keeping with the theme, here are 5 March Madness stocks you might consider adding to your bracket:
CBS


For the past several decades, broadcast giant CBS (NYSE:CBS) has been the TV home of the NCAA Tournament. Last year, the company captured the bulk of the tournament advertising revenue, which came in at an estimated $738 million. That advertising dollar amount is expected to be even bigger this year, and that should make CBS shares an easy layup for investors. Interestingly, the stock has performed quite well in April, and it is no coincidence that this timely performance comes right after March Madness.
Coca-Cola


In 2011, iconic beverage maker Coca-Cola (NYSE:KO) spent some $26 million advertising during the NCAA Tournament. And while that amount represents a mere drop in the fiscal Coke bottle for the global behemoth, its ads do place its products directly in the face of college hoops fans throughout the country. Coca-Cola loves March Madness, so much so that it is "The Official Fan Refreshment of the NCAA." That means viewers have seen a whole of Coke ads during the games — and that means thirsty investors may want to pop the top on KO shares.
Nike


Sports apparel and footwear giant Nike (NYSE:NKE) is one of the world's most popular brands. The company also controls about 90% of the $2.4 billion basketball footwear market. Nike knows how to associate its brand with winning teams, both in professional sports and college sports. One of the teams Nike sponsors is the University of North Carolina. The Tar Heels won it all in 2009, and this year many pundits — including even President Obama — picked the school to hoist the championship trophy again. Fortunately, Nike shareholders shouldn't suffer from the Tar Heels loss to Kansas in the Elite Eight round.
Foot Locker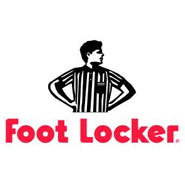 Athletic footwear retailer Foot Locker (NYSE:FL) features the latest in basketball shoes, and with the NCAA Tournament in full swing, the company is likely to see an influx of basketball shoe sales. Footlocker's traditional customer base is the young male athlete who loyally buys his team's favorite brand, and most of those brands have been in full display during the four weeks of March Madness. The added brand exposure generated by the tournament could just translate into big jump shot for FL shares.
Dick's Sporting Goods



If there were any doubt about the power of college sports, consider this statistic that keeps Dick's Sporting Goods (NYSE:DKS) on its toes: one-fourth of all goods sold through licensed sports apparel stores in 2012 will be college-branded. That's more than the second-ranked National Football League, and the third-ranked Major League Baseball. One company that sells all types of licensed college sports clothing — as well as professional sports apparel — is Dick's. The retailer also sells basketballs, hoops, footballs, baseballs, bats, etc. Basically, everything required for the budding March Madness, Super Bowl or World Series star can be purchased at Dick's, and that makes it a great all-around portfolio athlete for any investor.
This article originally appeared in Traders Reserve.