Every time Warren Buffett does something human, people start questioning whether the Oracle of Omaha has lost his stuff.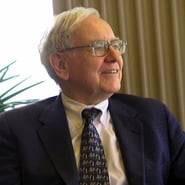 If Warren Buffett makes a mea culpa over a bad investment or Berkshire Hathaway (BRK.B) fails to beat the S&P 500, almost invariably we're treated to discussions of how he may have lost his mojo.
Maybe it's a fun question to bat around in the way baseball fans argue about a power hitter, but it's not very useful — and it's not even clear what people are complaining about.
A recent piece in The New York Times explained just how uncommonly good an investor Warren Buffett is from a statistical perspective. It's nearly impossible to beat the market over any extended length of time, and yet from 1965 through the end of 2013, Berkshire Hathaway outperformed the S&P 500, including dividends, by 9.9 percentage points annualized.
That performance is so extraordinary that it puts Warren Buffett in a super-elite pool, one that holds less than 1% of the population of investors, according to a new statistical analysis of Warren Buffett and his long-term record at Berkshire Hathaway.
Okay. It's nice to have a way to yardstick Warren Buffett's almost incomparable skill, but so what? We know he's good.
The part of this statistical analysis getting all the attention is the one focusing on how Warren Buffett and Berkshire Hathaway have lagged the S&P 500 in four of the last five years. Statistically, there is only a 3% chance that this underperformance is due to bad luck, says Salil Mehta, the author of the study.
Warren Buffett and Berkshire Hathaway may have stumbled a bit in the last few years when benchmarked against the S&P 500 on total return, sure, and that's bound to attract attention. But Warren Buffett's investment style is actually designed to do that to a degree.
Warren Buffett has said plenty of times that Berkshire Hathaway will tend to lag when the S&P 500 is putting up scorching-hot gains — as it did from 2009 through 2013. Berkshire Hathaway will also hold up better when the S&P 500 is in a tailspin. That's how it's built. Limit the downside and the upside will take care of itself.
A few years of subpar returns don't prove anything. Call it a slump, but there's no proof that it's an irreversible late-career swoon.
Warren Buffett Keeps Delivering on EPS
Just as importantly, there's another — perhaps better — way of comparing Warren Buffett and Berkshire Hathaway's performance against the market during this post-crash bull market. And by those figures, the market is getting smoked.