Facebook, Inc.'s (NASDAQ:FB) data fiasco has shaken the market as a whole — and tech stocks in particular. Prices have pulled back on a wave of negative media attention and potentially tighter regulation. Suddenly the unstoppable rise of the tech giants looks a little bit more fragile. But many tech stocks still show very sustainable and robust long-term fundamentals. That's why I am confident that now is the time to buy cheap tech stocks on the dip.
Indeed, top Monness analyst Brian White has just told CNBC that tech might be the biggest buying opportunity right now. Now is the time for investors to boost their tech holdings, says White, adding: "There are some great secular trends in this group."
With this in mind, I used TipRanks' stock screener to pinpoint the most compelling tech stocks right now. These are stocks with support from top analysts — i.e. analysts with the strongest track record of rating success, as well as big upside potential.
I include in all the stocks covered below the average analyst price target so you can see how far these stocks can potentially spike from current levels.
Let's take a closer look now:
Cheap Tech Stocks: Facebook (FB)
Perhaps surprisingly, the first stock on this list is none other than Facebook. Yes, that's right FB. But when you think about it, it's not surprising at all. Following the Cambridge Analytica scandal, we now have a "truly attractive entry point" into one of tech's best growth stories.
For RBC Capital's Mark Mahaney, FB is still his No. 1 Long in large-cap internet stocks. This five-star analyst has just reiterated his bullish take on FB with a $250 price target. With shares down 7% year-to-date, this translates into massive upside potential of over 50%.
According to Mahaney, FB has a key advantage because of its current low market shares — less than 20% of Global Online Advertising and a mid-single-digit percent of Global Total Advertising. This will help it to maintain premium growth for a long time. On top of this, FB still has several new large revenue growth drivers up its sleeve. We are looking at Instagram monetization, Messaging Platform monetization, camera/AR, AI, and video to name but a few.
He adds, "Yes, Regulatory Risk is real … But we believe this is now more than fairly reflected in FB shares and reiterate our Outperform rating." And the Street as a whole clearly feels the same. Overall, FB has received 31 recent buy ratings vs just two hold ratings and one sell rating. Meanwhile their $219 average price target translates into 33% upside potential from current levels.
Cheap Tech Stocks: Autodesk (ADSK)



This groundbreaking 3D design company makes software for people who make things. This includes software for architects, animators, constructors and engineers. In the last month prices have pulled back by 3.4%. But its growth trajectory is nonetheless very impressive, with prices up 25% year-to-date.
And this is just the beginning according to the Street. In the last three months, Autodesk, Inc. (NASDAQ:ADSK) has received an impressive 13 buy ratings with a $154 average price target (16% upside). Two of these ratings stand out. Top Oppenheimer analyst Koji Ikeda calls ADSK his Top Stock Pick in Saas/ Applications Software. He explains: "Autodesk is a well-established franchise and industry leader and operates as an industry-standard, must-have technology in nearly every industry it operates in."
Looking forward, Ikeda sees big growth potential as "the business is well positioned in a large but lightly penetrated construction industry that is yearning for next-generation technologies, like Autodesk's, to help digitize the industry."
Similarly, five-star Robert W Baird analyst Robert Oliver calls ADSK a "Fresh Pick." He ramped up his price target from $145 to $155 (20% upside) while praising the company's strong execution.
Cheap tech stock: First Data (FDC)


I highly recommend tracking First Data Corp (NYSE:FDC) very carefully right now. First Data holds a relatively rare position as merchant acquirer, network, and issuer processor. Crucially, the company is also benefiting from the rise in electronic payments. People are turning away from cash and checks, and towards electronic transactions.
According to the wisdom of top Oppenheimer analyst Glenn Greene this stock can soar 51%. He picks First Data as his No. 1 fintech right now. Why does this matter? Well, our data places Greene as a Top 10 analyst for his stock picking ability. He currently boasts an 82% success rate and 20.9% average return on his stock recommendations.
According to Greene: "The company has an attractive business model, characterized by transaction-related fees, multi-year contracts, a diverse client base, and high incremental margins." Plus he expected strong earnings growth as FDC "applies its sizable annual FCF [free cash flow] to debt paydown, and a narrowing of the valuation discount to peers."
In the last three months, eight top analysts have published buy ratings on FDC with only one analyst staying sidelined. With shares down 9% YTD, the $21.61 average price target indicates big upside potential of 41%.
Cheap tech stock: Expedia (EXPE)



Like FB, online travel emporium Expedia Group Inc (NASDAQ:EXPE) is down 9% year-to-date. But this neglects the fact that Expedia represents an excellent play on the secular growth in Online Travel. "Buying the EXPE Dips" over the last five years has been a very good strategy for making $" argues RBC Capital's Mark Mahaney. I'm sold!
New management is now investing more aggressively in tech and marketing- and this should help EXPE catch up with industry leader Booking Holdings Inc. (NASDAQ:BKNG). Meanwhile HomeAway, EXPE's answer to Airbnb, is still in its early days and boasts 'a tremendous growth runway' domestically and internationally.
Mahaney explains: "We view EXPE's Bookings and Room Night Growth rates to be largely intact, current investments as the right move, and with Street estimates recently reset twice, we see potential for both multiple re-rating and positive estimates revisions."
Over the last three months, 14 top analysts have published buy ratings on EXPE with six analysts staying on the sidelines. On average these analysts see 23% upside potential from the current share price.
Cheap tech stock: Alphabet (GOOGL)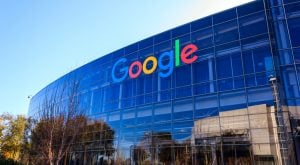 As a stock that costs well over $1,000, Alphabet Inc. (NASDAQ:GOOGL) is never going to be a bargain buy. But still, shares are looking undeniably "cheap" right now. Prices are down by 5% over the last month, and 7.5% over the last three months.
This pullback comes even though GOOGL remains one of the strongest and most consistent stories out there. Just look at its 32 consecutive quarters of 20% revenue growth and 25%-plus operating margins. These are the kind of figures other companies can only dream about.
Indeed, five-star Monness analyst Brian White has just reiterated his "buy" rating and $1,280 price target. Alphabet is already the No. 1 search engine and mobile operating system in the world, says White, but it is still furiously innovating with a never-ending list of new products (see Waymo's latest announcement).
With an eye on the attractive growth opportunities ahead, White says: "With the company's dominant position in search, the company has garnered the top position in the global online advertising market and we believe the stock is an attractive value at current levels."
We can see from TipRanks that GOOGL — a "strong buy" stock — has received 23 buy ratings vs three hold ratings in the last three months. This is with a $1,302 average analyst price target (25% upside potential).
Cheap tech stock: Mellanox Technologies (MLNX)
You may not have heard of chip maker Mellanox Technologies, Ltd. (NASDAQ:MLNX) — but in the last six months this "strong buy" stock has jumped by 77%. What's more, there is still plenty of upside potential left! Mellanox is a leading supplier of computer networking products using InfiniBand and Ethernet technology. The stock is buzzing after the company positively pre-announced first quarter earning results. Most notably, midpoint of revenue guidance increasing by $18 million, or 8%, to $245 million.
On the news, top Loop Capital analyst James Kisner boosted his MLNX price target from $80 to $90. The new price target suggests 28% upside potential from current levels. For Kisner, MLNX stands to benefit from 1) the adoption of high-speed Ethernet network interface cards and 2) switches by hyperscale internet/Web 2.0 companies.
Most interestingly, Kisner isn't concerned about the company's activist spat. On the contrary, he sees the involvement of Starboard Value LP as a positive catalyst that could lead to a company sale or operating improvements. Starboard owns 10.6% of Mellanox shares and is currently pushing to take over the board of directors.
Cheap tech stock: Amazon (AMZN)




Shares in Amazon.com, Inc. (NASDAQ:AMZN) are down 7% over the last month. Amazon has had to deal with FB's data woes as well as a barrage of tweet attacks from President donald Trump. "I am right about Amazon costing the United States Post Office massive amounts of money for being their Delivery Boy," Trump tweeted on April 3.
But while Amazon may not be the president's favorite stock, it certainly has top marks from the Street. RBC Capital's Mark Mahaney writes "Presidential Obsession" is now an investment risk, but we continue to view the long-term growth outlook for AMZN to be the most robust in 'Net land given the very large TAMs [total addressable markets] AMZN is facing."
He continues: "For '18, we believe AMZN starts gaining traction in Marketing services (AMS), while Cloud appears to have hit a positive industry inflection point." Indeed, AWS revenue contribution is still growing and should act as a meaningful, sustainable source of leverage for Amazon.
Right now 34 out of 35 top analysts are bullish on the stock. These analysts see the stock spiking 19% to $1,706. This is just above Mahaney's $1,700 price target.
TipRanks offers investors the latest insight into eight different sectors by tracking the activity of 4,700 analysts, 5,000 financial bloggers and even 37,000 corporate insiders. As of this writing, Harriet Lefton did not hold a position in any of the aforementioned securities.