Vaccines are being shipped out in preparation for approval … where Matt McCall is looking for post-vaccine investment opportunities … the idea Matt is most excited about
This past Friday, United Airlines began flying doses of Pfizer's COVID-19 vaccine around the globe.
The goal is to have the vaccine on hand for quick distribution if the shots are approved by regulators.
From The Wall Street Journal:
The initial flights are one link in a global supply chain being assembled to tackle the logistical challenge of distributing COVID-19 vaccines.

Pfizer has been laying the groundwork to move quickly if it gets approval from the Food and Drug Administration and other regulators world-wide.
As to when regulatory approval might come, the FDA has scheduled a meeting on Dec. 10 to review Pfizer's emergency use request. After the review, it will vote whether to recommend that the vaccine be cleared for broad use in the U.S.
The WSJ reports that the FDA could make its determination shortly after the vote. That would set up the potential for the start of distribution by mid-December.
Meanwhile, as I write Monday morning, fellow drug-maker, Moderna, has indicated it will request FDA authorization of its vaccine later today.
If the FDA clears both vaccines, U.S. officials will have enough doses to vaccinate roughly 20 million Americans.
***While approval isn't guaranteed, this does suggest investors should begin looking at the investment implications of a post-vaccine economy
Matt McCall tackled this issue in his recent issue of MoneyWire. If you're a newer Digest reader, Matt is our resident trend and technology expert.
Despite the market-challenges of this year, Matt has led his subscribers to some incredible returns. I'm looking at his portfolio performance since the spring, seeing gains of 118%, 123%, 244%, 253%, and 892%, among a slew of other triple-digit winners.
Returning to Matt's MoneyWire issue, here's how he began the discussion of investing after the vaccine:
I wrote to you a little over a week ago about how my own shopping trip made me more bullish than ever.

The return of retail and consumer spending is just one example of investing in a post-COVID world. We can all be thankful we're getting closer to that day.

The market is already looking ahead to those days. Earlier in the year we had the distancing and work-from-home trades, and now investors need to be thinking about the proximity trade …

The vaccine news in recent weeks has been spectacular, giving us all hope that we can put the pandemic behind us and get back to normal in the first half of next year …

An effective vaccine is obviously a game changer … and a world changer.

As investors, we can't ignore that kind of change.
So, how is Matt sizing up the post-vaccine investment options?
For the most obvious, he points toward the vaccine-makers themselves.
Back to Matt:
Their stocks have been bouncing around lately, but with the news mostly out there, additional upside could be somewhat limited at this point.
To Matt's point, below is the chart for Moderna.
It's skyrocketed roughly 650% on the year … with nearly 120% gains coming here in November (it's up 13% today as I write, based on the FDA news).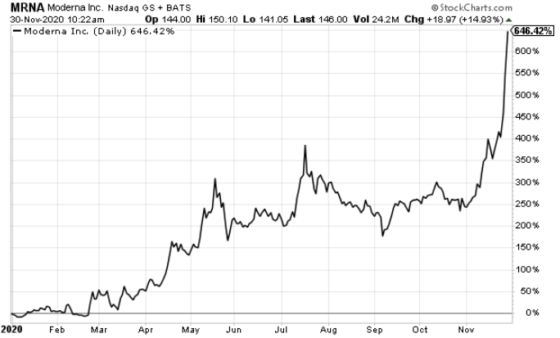 As Matt points out, additional upside ahead could remain, but such a massive run-up this year does mean similar gains from this point forward would be extraordinary.

***For more investment upside potential, consider a "picks 'n shovels" play
If you're less familiar with the term, it dates back to the 1850s gold rush.
Though thousands of would-be millionaires set out to find gold in California, very few hit it big. Meanwhile, a few smart folks took an easier route to riches — selling basic goods to the miners.
It turns out, the first millionaire of the California Gold Rush was an entrepreneur named Sam Brannan who sold pots, pans, and — you guessed it — picks and shovels to the gold speculators.
Back to Matt:
The manufacturing and distribution of vaccines for not just the United States but the whole world will require A LOT of picks and shovels.

Think vials, syringes, cold storage, medical waste, transportation, tracking, and on and on.
As one option, Matt points toward Becton, Dickinson & Co (BDX).
It's the world's largest maker of syringes, having already committed to making nearly half a million to be used in the global vaccination effort.
One thing to keep in mind is that BDX is a large company — it has a $66 billion market cap. So, while all these syringe sales should help BDX's bottom line, those added profits might appear somewhat small relative to how much profit BDX already generates.
Given this, Matt typically prefers smaller picks 'n shovels plays. And that brings us to the third type of investment Matt is eyeing today, the one he's most excited about …
***The investment potential of "the proximity trade"
Here's Matt to explain what this is:
The proximity trade means buying high-quality businesses that got hammered because of distancing but can thrive as we start getting back together.

When you buy the depressed shares of companies that have been hit by a serious but solvable problem, the gains can be extraordinary when things work out positively.

So, think about that. We're talking airlines as people start flying again. (I'll be on a plane several times over the next month.)

Hotels as people travel again.

Casinos. Sports. (I can't wait to be able to go to a game again.) Entertainment.
Matt's quote reminds of a related quote by investment legend, Warren Buffett:
A great investment opportunity occurs when a marvelous business encounters a one-time huge, but solvable problem.
COVID-19 has been a gargantuan problem. And the truth is that for some businesses, it will not be solvable.
However, for other businesses, recovery is coming. And buying now when shares prices are still depressed will produce huge rewards for investors as vaccines enable these "marvelous business" to return to their former glory.

***As one example of a proximity trade that's already produced fantastic returns for investors, Matt points toward NIU Technologies (NIU)
This is a stock he recommended to his Early Stage Investor subscribers.
Matt explains that NIU is a Chinese-based, urban mobility company. Basically, that's electric scooters and e-bikes, which have been in high demand in crowded cities around the globe.
Lockdowns hit NIU's bottom line, and the stock lost 40%, falling from $10 to $6.
But today, shares have recovered … and then some.
As you can see below, since Matt's NIU recommendation on Feb 5, the stock has climbed more than 300% before its recent pullback — and those gains includes the 40% drawdown.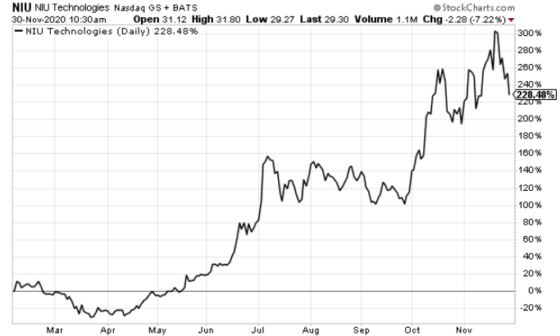 Back to Matt:
It makes sense. Asian and European cities are struggling with air pollution. Their governments are mandating shifts to electric vehicles.

And as for super-populated cities like Guangzhou and Shanghai in China, well, talk about "social proximity!"

This is just one example of why investors need to look forward, not back.
As we wrap up, the vaccines are coming. And along with them we can look forward to the re-opening of our global economy.
For investors who align their wealth with great business that can get back to normal after the vaccine, that means major portfolio gains.
I'll give Matt the last word:
The results can be huge, and now is the time to get in position to take advantage of a vaccine developed in record time allowing life to get back to normal soon.
Have a good evening,
Jeff Remsburg