As is typical among special purpose acquisition companies (SPACs), Landcadia Holdings II (NASDAQ:LCA) isn't an exciting company by itself. To be honest, if it weren't for an upcoming merger, there wouldn't be much of a reason to trade LCA stock.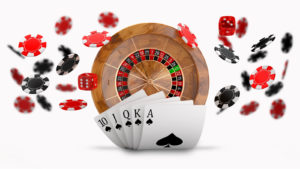 That's why there's been so much anticipation surrounding Landcadia's planned reverse merger with Golden Nugget Online Gaming (GNOG). This gaming company will be Landcadia's core asset and should provide tremendous value and brand-name recognition.
It could even be said that the reverse merger with GNOG is the one and only justification for Landcadia's existence. That's not a bad thing if there's reason to believe that the business combination will happen soon.
Current and prospective LCA stock holders have waited a while for the merger to finally happen, but their patience will only last for so long. Thankfully, it appears that the stakeholders might not have to wait much longer for this (literally) game-changing deal to go through.
LCA Stock at a Glance
For investors with a strong stomach, the roller coaster ride in LCA stock has proved to be profitable. Suffice it to say that LCA has a well-defined support level. Moreover, at the moment, the bulls are fully in control of the price action.
Prior to late June of 2020, LCA stock didn't offer much in the way of excitement. Indeed, the share price was magnetized to the $10 level for months.
However, that state of affairs would change dramatically. Announcing the the reverse merger with GNOG catalyzed some sharp moves in LCA stock. But then, those moves weren't always to the upside.
After shooting up past $16, LCA stock proceeded to retrace to the $11 level. That level turned out to be a strong support area. The next ramp-up to $18 was followed by another pullback to the $11 area in October.
It took guts to hang on for that ride, but patient shareholders were soon rewarded. On the morning of Dec. 4, LCA stock was trading at $20 and change. The bulls' momentum is powerful as this run is accompanied by very strong trading volume.
An Important Meeting
Again, without the merger with GNOG, Landcadia would be a mere shell company without purpose and LCA stock would probably be dead in the water.
Fortunately, there is progress. It was recently revealed that Landcadia plans to convene a special meeting of the company's shareholders. This meeting is scheduled for Dec. 18.
Some of us might roll our eyes at the thought of meetings, but this won't be a time waster at all. Specifically, the purpose of the special meeting will be to vote on the business combination with GNOG.
And so all of the speculation on social media that the deal could fall through, is likely nothing more than rumors and gossip. It's a textbook example of how following speculators' assumptions isn't a viable investing strategy.
Regulatory Approval
Of course, the reverse merger with GNOG is only good news if GNOG is legally permitted to engage in the merger and operate its gaming business.
This is particularly important in a gambling hot spot like New Jersey, the home of Atlantic City. Therefore, the stakeholders should be glad to learn that the New Jersey Casino Control Commission recently approved Landcadia's acquisition of GNOG.
Landcadia II's general counsel, Steven L. Scheinthal, outlined the next steps: "We are now waiting on the SEC to approve our definitive proxy statement for mailing to our stockholders and approval from our stockholders of the transaction, which we hope will happen in the near future."
Looking Ahead
And so, we circle back to the upcoming special meeting. Without a doubt, the shareholders' vote is very likely to yield a positive result for the proposed merger.
The final vote in favor of the GNOG business combination won't be long now. As a result, LCA stock holders should see more gains in the near future.
On the date of publication, neither Louis Navellier nor the InvestorPlace Research Staff member primarily responsible for this article held (either directly or indirectly) any positions in the securities mentioned in this article.