More often than not, if history doesn't repeat, it certainly rhymes. On surface level, this should be a strong catalyst for Landcadia Holdings II (NASDAQ:LCA). With favorable legislation and rising momentum for online gambling, LCA stock joined several other sector participants in delivering robust gains for stakeholders. And if the olden days are any indicator, more green ink is in store for the industry.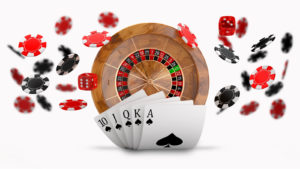 At first, the notion sounds completely counterintuitive. Obviously, we have the novel coronavirus pandemic, a crisis that for the time being has reached epic proportions. Second, this will likely impact nearer-term sentiment for the economy, particularly small businesses. Further, while the labor market added 245,000 jobs in November, the rate of improving employment metrics declined conspicuously.
Add it all together and you have what may be the most rational economic indicator, the personal saving rate. While it has thankfully dropped from its April 2020 high of 33.7%, the latest October read of 13.6% is nothing to be overly cheerful about. In the wake of the Great Recession, the saving rate hit a peak of 12% in December 2012.
In other words, Americans are saving money, which is expected in this chaotic year. However, this doesn't necessarily bode well for LCA stock. Logically, gambling investments require people to be profligate with their money. Or does it?
Implausible Is the New Normal
Before you dismiss the case against gambling stocks based on pre-pandemic reasoning, it's important to realize that we've seen many phenomena that have challenged our assumptions. Primarily, the rush to the stock market, as evidenced by the surge in popularity of trading app Robinhood, demonstrates that Covid-19 did not take away consumer appetite for risk.
Of course, the counterargument is that for millions of Americans, the coronavirus did not comprehensively disrupt everyday life. Indeed, for those fortunate to work from home, the pandemic was a "benefit" – obviously, people saved time from their daily commute.
However, the concept of risk sentiment increasing during times of calamity is surprisingly nothing new. According to the Yale Tribune, economic crises in the past forced a rethink in how Americans viewed games of chance:
The 18th Amendment prohibiting gambling became law in 1919, when Nevada, as the 36th state to sign, ratified the Bill in Congress. Fourteen years later, in 1931, as a strategy to lift its economy from the economic downturn of the 1929 Great Depression, Nevada re-legalized gambling, becoming the only state with legal casino gambling.
Interestingly, we're in a very similar situation today. Following the Covid-19 downturn, three states legalized sports betting in the 2020 election, bringing the present total to 21. Moreover, with the gaming industry providing much-needed job opportunities, we could see increased momentum.
But does this give a green light to LCA stock? That's where investors should be cautious.
LCA Stock Not Built for Long-Term Success
Admittedly, Landcadia Holdings II shares have been on a tear recently, inspiring others to hold on for the ride. But if you were lucky enough to take a shot earlier, now is a great time to consider exiting into strength.
As I wrote in September, after Landcadia closes its reverse merger to become Golden Nugget Online Gaming, the organization "expects to have less than $100 million in cash on hand. Much of the money coming from LCA shareholders actually is going to pay down debt…The company isn't going to go bankrupt, but going forward it won't have the war chest that larger rivals will." More importantly, this disadvantage has longer-term implications:
It's going to be a race to attract customers early and often, because once iGaming customers are acquired, they become profitable very quickly and they tend to stick around. If rivals are spending more, they will have a key edge.

In newer markets, Golden Nugget's brand will be weaker. The company will have some name recognition in Pennsylvania, which was a feeder market for Atlantic City before it legalized gambling in 2006. But in Michigan, the company likely starts from behind.

That's doubly true because, at least for now, GNOG has no interest in going into online sports betting. But online sports betting operators are moving into iGaming (with some success in New Jersey).
Sure, the underlying market is an exciting, relevant arena. It's just that GNOG will find itself immediately under pressure from its rivals. Because so much can be gained in those early days, I'm more skeptical about LCA stock.
This Isn't a Blanket Love Affair
At the moment, the fear of missing out – or FOMO for short – seems to be driving LCA stock. Granted, such exuberance can briefly take shares to astonishing heights. But the problem is that once the Street recognizes the fundamentals, the ensuing drop can be severe.
Therefore, if you have a longer-term horizon, Landcadia Holdings II is a classic case of there are more fish in the sea. LCA stock is good for a quick spin in the casino. But if you want something viable, better options exist.
On the date of publication, Matthew McCall did not have (either directly or indirectly) any positions in the securities mentioned in this article.
On the date of publication, neither Matt McCall nor the InvestorPlace Research Staff member primarily responsible for this article held (either directly or indirectly) any positions in the securities mentioned in this article.