Four major investment stories for 2021 from our macro specialist, Eric Fry
Today, we're going to put you in position to make money by highlighting four investment trends that are going to shape markets here in 2021.
The rationale is about as "Investing 101" as it gets — if you want to make big returns, identify the massive investment winds blowing billions of dollars throughout the economy, then simply put your wealth directly in the path.
We're going to do this with the help of Eric Fry, InvestorPlace's global macro specialist, and the analyst behind Investment Report.
For any newer Digest readers, Eric's experience with macro trends has helped him call nearly every significant market move of the past 25 years. And he's found more 1,000%+ recommendations than anyone we know of in the newsletter business — 40 at last count. Most investors are lucky to get one such 1,000%-gainer.
He also happens to be one of the best investors even among the Wall Street elite.
Case in point, in 2016, he took 1st place in Wall Street's biggest investment competition, topping 650 investors including legends Mario Gabelli, David Einhorn, Bill Ackman, and Joel Greenblatt.
Eric won the contest with a 140% return in just one year — earning him the title of "America's Top Trader."
Given these bona fides, when Eric writes about four trends that will be powering 2021, it's worth paying attention.
So, today, let's take a look inside Eric's latest issue of Investment Report to see where the big money will be flowing this year — and how we can make money off of it.
***Power Trend No, 1 — the Battery Metal "Rush"
Let's go straight to Eric to set the stage:
The first major trend that could produce investment winners in 2021 is what I have been calling the Second Electric Revolution.

Since I've been harping on this trend for more than four years, it should be familiar to most subscribers. But just to review, I'm talking about the massive worldwide transition from combustion-based modes of power generation to renewable modes that feed an array of electric- and battery-based technologies.
Now, rather than investing directly in energy storage companies, Eric recommends investing in the mining companies that are providing the metals essential to energy storage technologies.
One such example is Eric's "Top Pick for 2020," Freeport McMoRan (FCX).
Below, you can see FCX climbing as high as 140% since the beginning of 2020, before its recent pullback.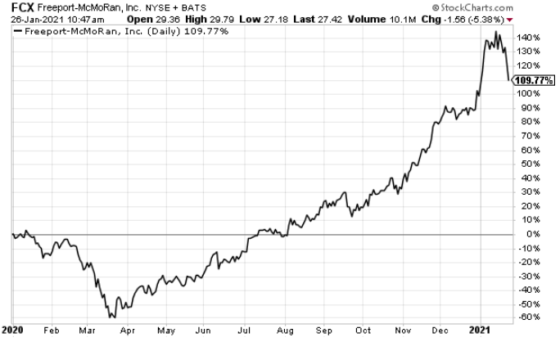 FCX reported earnings this morning, meeting analyst forecasts on a huge earnings-increase (from $0.02 last year to $0.39).
Nevertheless, the stock dropped because of trimmed guidance for 2021. Analysts are focused short-term, as FCX actually increased its 2022 target for copper sales.
We're unconcerned with these short-term price reactions. This is a macro, long-term investment story.
Now, the above-returns are great for anyone who followed Eric into FCX last year. But are the tailwinds that powered this performance in 2020 still in play looking forward?
Back to Eric:
The research firm Wood Mackenzie predicts the global energy storage market will skyrocket between now and 2030 — from a starting point of less than 15 gigawatt-hours to 741 GWh.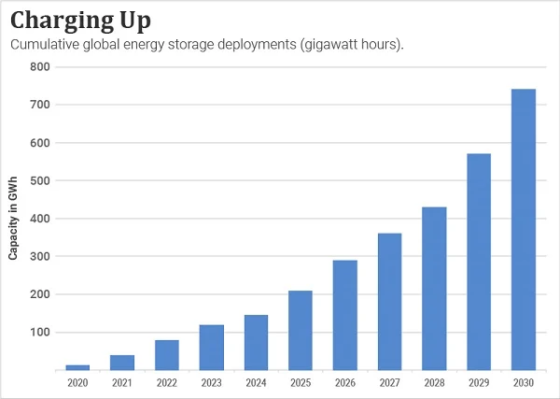 Incidentally, this new forecast is double the forecast that Bloomberg New Energy Finance issued about two years ago.

To boost energy storage from where it is today to 741 GWh by 2030 would require an annualized growth rate of nearly 40%.

This booming rate of growth will rain down profits on a wide variety of companies. But as I've stated repeatedly, select base-metals companies may be the biggest beneficiaries of this new boom.

That's because energy storage technologies require spectacular volumes of nickel, copper, manganese, lithium, and other battery metals.
Eric points out that "energy storage" just means "batteries." And when we look at batteries, we have to include electric vehicles (EVs), which are basically just batteries on wheels.
Eric refers to EVs as "metal hogs." And every major car company on the planet is ramping up production of EVs today. Next year, there will be more than 230 different EV models in the market.
Translation? Explosive growth in battery metals.
Back to Eric:
In 2018, the global EV market totaled about $40 billion. But according to Wintergreen Research, that number will soar 40-fold by 2025 to reach $1.5 trillion in annual sales.
Here's how Eric wraps up this first trend:
… the battery metal boom might become a "metal rush" in 2021.

This exact scenario may be playing out already, as investors are beginning to sense that the world's "plentiful" supplies of battery metals like copper, nickel, and lithium may not be quite as plentiful as they seemed a few months ago.
***Power Trend No. 2 — Travel Bounces Back
As you're aware, the pandemic crippled the travel and hospitality industry.
The daily tally of passengers flying on domestic and international scheduled U.S. airline flights plummeted from 2.6 million at the start of 2020 to just 100,000 in April.
Accordingly, airline stocks collapsed as well.
Below, you can see the performance for Delta, United, and American from the beginning of 2020 through late March — down 63%, 76%, and 64%, respectively.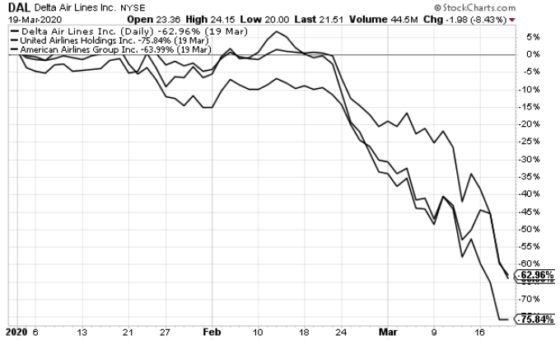 But Eric writes that a recovery is underway …
The vicious cycle of slumping travel activity is becoming a virtuous cycle of rising travel activity … and rising travel industry revenues.

The Transportation Security Agency's daily passenger throughput numbers have been climbing for months. This favorable trend is certain to continue strengthening in 2021.
If we look at those same airlines stock as above since this past November, we see signs of a recovery. All are up double-digits, with American leading the way at 38%.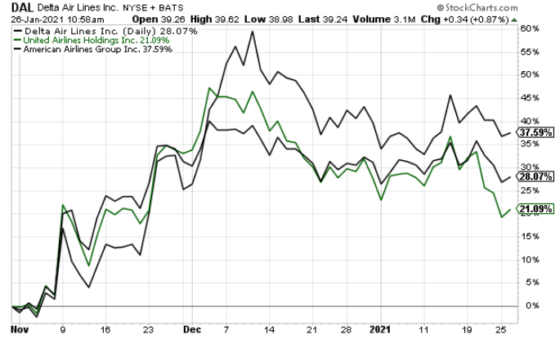 Back to Eric:
Once travel activity recovers to pre-COVID levels, I expect airline stocks to recover their pre-COVID share-price levels, and then continue trending higher as pent-up demand for travel translates into robust airline traffic.
***Power Trend No. 3 — "Easy Money" Makes Hard Money Shine
Let's jump straight to Eric:
The third major trend that could pay dividends in 2021 is something called "easy money."

The term refers to the result of fiscal and monetary policies that combine to cause "liquidity" to course through the U.S. financial system.

Often, easy-money conditions produce rising inflation, which often produces a great, big rally in gold and other commodities. That's why the gold market may be offering one of the most promising trades of 2021.
But if you've been following gold, you know that it's been slowly drifting lower and sideways since setting an all-time high in August …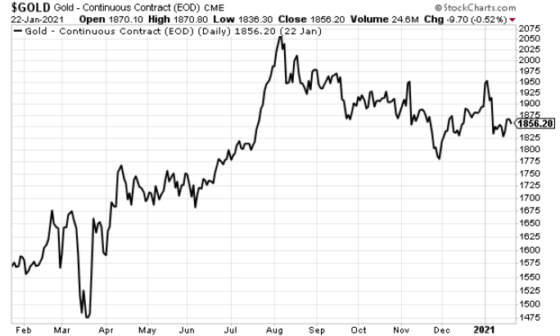 Eric doesn't expect this to last indefinitely …
Although the yellow metal has been slumbering for the last several months, it should reawaken soon … thanks to the easy-money policies that are weighing on the dollar's value and pushed it down to a three-year low.

As I've pointed out previously, a weakening dollar is a typical result of easy-money conditions and is typically good news for gold.

Not only is the Federal Reserve continuing to conduct large-scale quantitative easing (QE) operations — i.e., money printing — month-by-month, but the federal government is also ramping up its borrowing-and-spending activities.
In the wake of the pandemic response, the U.S. federal deficit has exploded to levels unseen since Word War II. But for as monstrous as it is, Eric writes that it's likely to widen even more in 2021:
In the name of "stimulus," Congress will likely pass legislation that spends lots of dollars the government doesn't have.

Big, fat deficits usually lead to some form of money printing, which usually triggers the gold-buying impulse.

That's why the yellow metal might shock investors this year by soaring to more than $3,000 an ounce … and why silver could fly all the way to $50 an ounce, as Doug Kass is predicting.
***Power Trend No. 4 — The Worldwide 5G Rollout
The 5G rollout has begun. And the investment-spend that's being triggered as a result is nothing short of gargantuan.
From Eric:
(5G) is a uniquely powerful investment opportunity that will deliver outsized gains for many years to come.

Trillions of investment dollars will flow toward and through 5G infrastructure over the next several years, no matter how well or poorly the global economy is faring.

Qualcomm estimates that 5G networks will generate a whopping $13.2 trillion in global sales activity by 2035.

Typically, an industry measures its growth potential in the billions of dollars, not trillions.
It's important to understand that this is a global phenomenon — leading to a worldwide race for leading multinationals to implement 5G technologies.
Eric writes that no company or country can afford to ignore 5G or to lag behind constructing and utilizing it. Doing so would be economically crippling. This will power the earnings growth of top-tier 5G plays throughout this entire decade.
Here's the bottom-line takeaway:
Simply stated, 5G is the newest of the make-or-break innovations that will accelerate technological advances … and determine both success and failure.

That power, by itself, would be enough to make 5G a compelling investment category over the next few years. But the massive size of this opportunity makes it even more compelling.

5G is set to create trillions of dollars in new wealth over the next few years.
So, there we go …
Four major investment winds blowing across the market here in 2021, and likely, well beyond.
To become an Investment Report subscriber to learn exactly how Eric is positioning his readers to profit from these trends, click here. But whether you look to Eric for help or do it yourself, this is where the big money is flowing this year. Get your portfolio ready.
Have a good evening,
Jeff Remsburg