Reddit investors throw the markets a curveball … this kind of trading is not for everyone … Louis Navellier's fundamentals-based investing is the alternative
How weird was this week? Well, this tweet provides an indicator…

When Sen. Ted Cruz (R-Texas) and Rep. Alexandria Ocasio-Cortez (D-N.Y.) agree on anything … that's a weird week.
I won't rehash the whole GameStop (GME)/Reddit saga. You've probably already read a ton about it, but if you haven't, my colleague Jeff Remsburg wrote an excellent explanation on Thursday and you can find it here.
But here is the main takeaway: If you think this is just a temporary dust-up, you should think again. We're seeing a real revolution in the marketplace. Retail investors have woken up to the power they have trading shares online – and the market may never be the same.
On Thursday, the popular Robinhood trading service decided to halt purchases of GME stock, but allowed users to liquidate shares, thus leading to the "who would have thought" twitter quote above.
By Friday morning, Robinhood had reversed its decision and was allowing users to buy shares and options in GME and other widely traded stocks popular with the Reddit WallStreetBets community.
At the same time, Robinhood said it would still limit the number of contracts that can be bought.
As I write Friday morning, GME is trading around $386 pre-market, after closing Thursday at $190. On Thursday the stock swung as low as $126 and as high as $492.
***This kind of speculation isn't for everyone
This is clearly the biggest story on Wall Street.
All the same, let's remember that many investors are not interested in options or in stocks with volatile swings. Those investors are still looking for stocks with solid fundamentals.
And there is one absolute truth in the GME runup: it made no sense based on fundamentals.
Here is what legendary quant investor Louis Navellier, editor of Accelerated Profits, wrote in the middle of the circus as some pondered whether it was time to jump into the GameStop stock.
So is now the time to jump in? Not now. The reality is the stock is too volatile, and it doesn't pass my fundamental screens.

The company isn't expected to become profitable until 2023, while sales are expected to grow just 10.6% over the same timeframe. Six analysts have revised their earnings predictions lower for the company in the last 90 days, while zero of revised their earnings estimates upwards.

Yes, in my Portfolio Grader the stock does receive an A-rating for its Quantitative Grade, which represents the strong buying pressure the stock has been under. However, its fundamentals are quite poor. It holds an F-rating for Sales Growth, Earnings Momentum and Return on Equity, and a D-rating for Fundamentals and Analyst Earnings Revisions. Overall, its Fundamental Grade is a "D."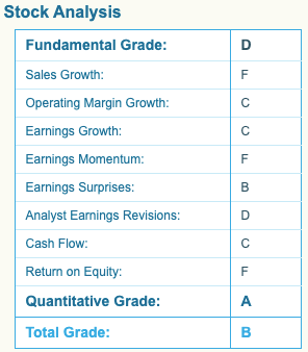 In other words, the stock is a mixed bag and likely a bubble waiting to be pricked. Short covering should never be confused with real strength, which is why I recommend that GameStop and other short squeezes be avoided.
***GME is not the only stock in this game
AMC Entertainment Holdings (AMC) is another stock with short squeezes creating massive volatility. Five days ago, the stock was trading around $3. Thursday it ran as high as $20 before closing at $8.63.
As of the opening bell on Friday, it was trading around $11.30.
But Louis would never have recommended this stock either based on its portfolio grader score.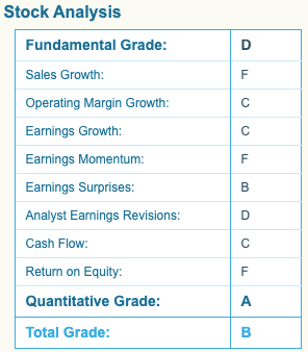 For more than 30 years, Louis has helped his readers make money by investing only in stocks with superior fundamentals.
Here is how he describes it.
The bottom line is that I look for stocks with superior fundamentals lining up across the board. These are the stocks with strong earnings and sales growth.

And I choose them based on math and the latest technology.

It's all part of a project I've been working on for years that I recently shared with the world called Project Mastermind. After extensive analysis, I isolated the eight key qualities that super-performing stocks shared… and I developed a system for riding them.

Using modern technology and loads of data, I am able to identify which stocks are poised to skyrocket — in a matter of months, not years! And these have nothing to do with highly volatile short squeezes.
Here's an example of how it works. In his Accelerated Profits service, Louis identified a financial tech company in June using his Project Mastermind system. Since the early summer pick, the stock rose 137% for the rest of 2020.
The Accelerated Profits Buy List of 57 stocks was up an average 16% over the same period while the S&P 500 gained just 0.9%.
***Louis sent a podcast update to subscribers Friday mid-morning
Louis sends these during fast-moving market conditions. In the podcast, he asked his subscribers, who invest based on fundamentals, to remember that we are still in the middle of earnings season.
About 25% of the stocks in the S&P have announced earnings and they have been stunning. They've been absolutely stunning, Tesla (TSLA) as the only major miss.

And what's happening is the market is very firm under the surface. Our stocks are definitely exhibiting leadership. We have a lot of stocks up sharply today.

When [the market] gets bumpy, then it goes back to quality. And that's what we do. So I feel very good here that earnings are working …

When all the dust settles this market is going to be more narrow than it was at the beginning of January and that's just how markets are. As they go higher they get more narrow they get more selective and I'm just ecstatic this week that when the markets are having problems that a lot of that money is sloshing our way.

Fundamentals are working. Earnings are on. We're not being jerked around by a lot of the distortions out there and money is still coming in the market.
If you're interested, Louis released two new picks in his Accelerated Profits service last Tuesday and will release another pick next week.
You can click here to watch Louis' Project Mastermind event, where he gave everyone a glimpse at his system and revealed his number-one stock pick.
Enjoy your weekend
Luis A Hernandez
Editor in Chief, InvestorPlace