Momentum investors have recently taken an interest in blank-check company Pershing Square Tontine (NYSE:PSTH), set up by Bill Ackman of Pershing Square Capital. Since its early September initial public offering (IPO), PSTH stock has gained 33.4%, with shares currently at around $29 a piece (see chart below).
Many special purpose acquisition companies (SPAC) typically trade within a narrow range in the weeks and months after their IPO, except for in response to the occasional report on finding a merger target. However, Ackman-backed PSTH — still lacking a candidate — seems to have made its gain on the momentum of the activist investor's name and reputation.
Today's article discusses whether PSTH stock deserves your investment now.
SPACs Are Hot
For private firms, going public via an IPO is one of the most common ways to obtain financing. Yet, in 2020, SPAC reverse-mergers also became a highly preferred mechanism for businesses to go public in equity markets.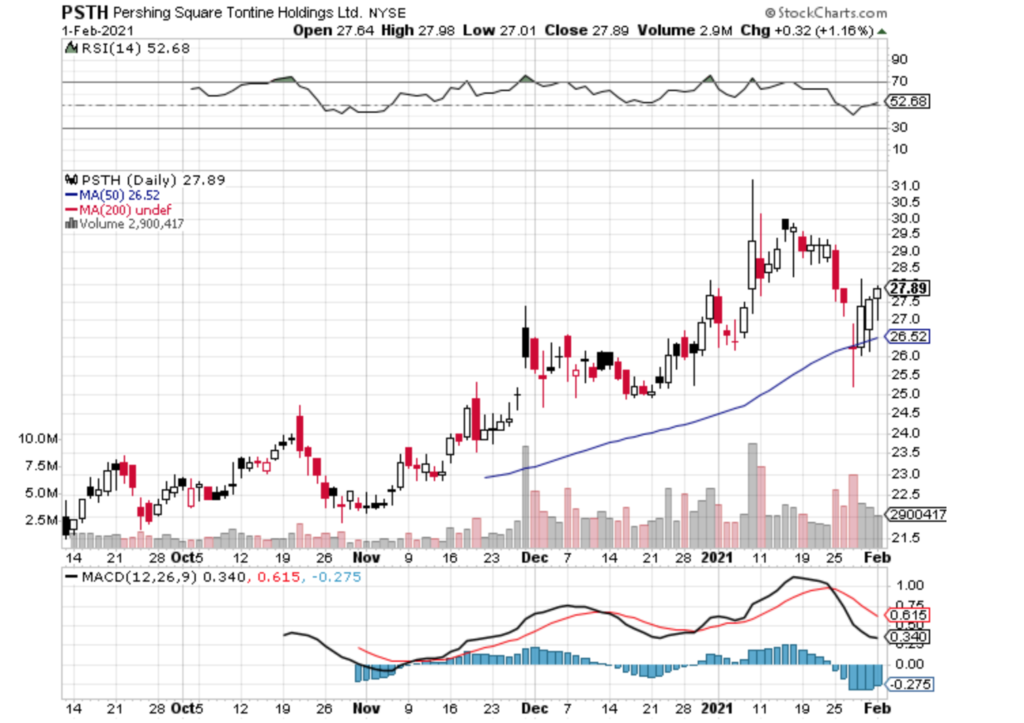 Click to Enlarge
Source: Stockcharts.com
SPAC Research suggests that there were 248 such IPOs in 2020. The roster that that got investors' attention includes Adapthealth (NASDAQ:AHCO), Canoo (NASDAQ:GOEV), DraftKings (NASDAQ:DKNG), Golden Nugget Online Gaming (NASDAQ:GNOG), Immunovant (NASDAQ:IMVT), Luminar Technologies (NASDAQ:LAZR) and Repay (NASDAQ:RPAY).
"Most SPACs begin trading at a price in the ballpark of $8-10 per share … SPAC managers are typically constrained by a two-year time horizon during which they must propose an acquisition target to shareholders," notes a recent dissertation at the Department of Finance at Texas Christian University.
Why do private companies prefer the SPAC reverse-merger route? By merging with a SPAC, a privately held business can avoid going through extensive steps to become public. InvestorPlace.com readers should remember not all reverse mergers with SPACs are necessarily successful. In fact, many companies decline below the initial $10 level, leaving investors disillusioned. Yet the past several years have also show a number of SPAC mergers that have created shareholder value.
Could Ackman's PSTH Stock SPAC Be Even Hotter?
Will PSTH stock become successful in 2021? For an answer, we look toward Bill Ackman. He has regularly been in the news in past years, usually with the "activist investor" label following his name. He has said that his most successful investments have always been controversial, and that his first rule of activist investing is to "make a bold call that nobody believes in."
Speculation on his SPAC's merger partner is important, as it is relevant to the share price post-announcement. In the past, Pershing Square Capital has always looked to buy into companies to add value to by having a seat at the board. We can keep this in mind as Ackman will likely go for a company that fits his ethos and that he can have a say in.
Coinbase is one company mentioned as a merger target. With cryptocurrencies becoming ever more popular, this crypto-wallet is the fan-favorite in its sector. But a concern surrounding crypto investing is the uncertainty of future regulations. If regulations were to tighten, it could drive the value of this hot business down. Ackman might see this as too risky, but we will possibly have to wait several more weeks to see if Coinbase is his target.
Another name in the talks is the payments processing platform Stripe. The financial services company has gathered lots of momentum, especially with the increased shift toward the digital space. This revenue-strong company would fit with Ackman's style. The CEO of Stripe did tweet about the rumor, posting "No such deal!" But this does not necessarily mean that talks are not happening.
PSTH stock is currently at a high price level relative to other SPACs that have not yet announced deals. But Ackman's name always gets the attention.
The Bottom Line on PSTH stock
It is too soon to say if PSTH stock will create value for shareholders. A merger with a big name or a prosperous company could easily see the PSTH share price build in the run-up to a merger date. Ackman's reputation also means a premium would likely factor into the pricing.
Put another way, Pershing Square Tontine's success rides on Bill Ackman's next move. Market participants who can spare risk capital on their belief that Ackman will be successful could consider buying PSTH stock around $20 or below. But if 2020 is any guide for SPAC investors, the shares are likely to be choppy in the new year.
Finally, those investors interested in the SPAC space but are not ready to buy into PSTH shares could consider investing in an exchange-traded fund (ETF). Examples would include the Defiance NextGen SPAC IPO ETF (NYSEARCA:SPAK) or the SPAC and New Issue ETF (NYSEARCA:SPCX). While PSTH has gained 33.4% since Sept. 7, SPAK is up 30.5% and SPCX up 43%.
On the date of publication, Tezcan Gecgil did not have (either directly or indirectly) any positions in the securities mentioned in this article.
Tezcan Gecgil has worked in investment management for over two decades in the U.S. and U.K. In addition to formal higher education in the field, she has also completed all 3 levels of the Chartered Market Technician (CMT) examination. Her passion is for options trading based on technical analysis of fundamentally strong companies. She especially enjoys setting up weekly covered calls for income generation.