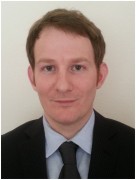 Alex Sirois
About Alex Sirois
"Alex Sirois is a freelance contributor to InvestorPlace who writes to give you investment insight that is conversational, actionable, and educational. While he writes about all stock classes, his personal stock investing style is focused on long-term, buy-and-hold, wealth-building stock picks.
Having worked in several industries from e-commerce to translation to education and utilizing his MBA from George Washington University, he brings a diverse set of skills through which he filters his writing. His number one goal in writing for InvestorPlace is to bring value to the reader.
Outside of investments, his interests include anything outdoor or health related, as well as music and other creative outlets. Originally from Maine, he has lived all over the U.S. and currently lives in Korea."

Join InvestorPlace Insights — FREE!
Get actionable advice from our top experts, including the hottest stocks to buy & sell, 401k and retirement tips, market analysis and more!
Recent Articles
SOFI stock received a nod from Wall Street, but real challenges actually lie ahead for the loan originator.
Trouble continues to compound for HYLN stock as SPAC hype fades. The company is predicting much greater results than anyone else.
GOEV stock isn't going to amount to much at this rate. Investors should understand that its peers are pulling in front as you read this.
SNDL stock will remain a dog until it isn't. It can expand its network but operational efficiency, not scale, is the issue.
Buy these dividend stocks and forget them for 10 years, you will win big and should have little to worry about in the interim.