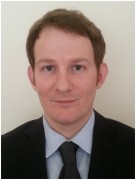 Alex Sirois
About Alex Sirois
"Alex Sirois is a freelance contributor to InvestorPlace who writes to give you investment insight that is conversational, actionable, and educational. While he writes about all stock classes, his personal stock investing style is focused on long-term, buy-and-hold, wealth-building stock picks.
Having worked in several industries from e-commerce to translation to education and utilizing his MBA from George Washington University, he brings a diverse set of skills through which he filters his writing. His number one goal in writing for InvestorPlace is to bring value to the reader.
Outside of investments, his interests include anything outdoor or health related, as well as music and other creative outlets. Originally from Maine, he has lived all over the U.S. and currently lives in Korea."

Join InvestorPlace Insights — FREE!
Get actionable advice from our top experts, including the hottest stocks to buy & sell, 401k and retirement tips, market analysis and more!
Recent Articles
CPNG stock truly looks attractive at these prices meaning it is a contrarian pick worth considering at its discounted levels.
LCID stock is a preeminent name in a new round of electric vehicle (EV) entrants. It will chip away at Tesla, making it worth your while.
Harvest Finance is a good introduction to the risky practice of yield farming. Learn more here if you're a risk tolerant, crypto enthusiast.
MTTR stock should rise if the market appreciates its strategy in acquiring Enview. It's logical and seems accretive so investors should watch out.
ALLK stock dropped off a cliff following disappointing study results, which illustrates what can go wrong in risky biopharma equities.