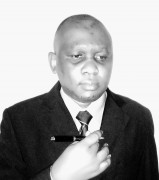 Brian Paradza, CFA
Brian Paradza is an investing enthusiast who was awarded the CFA Charter in 2019. A strong believer in fundamentals-based long-term investing, Brian learns from investing gurus like Warren Buffett and Peter Lynch but he acknowledges and adjusts expectations for human behavioral tendencies that drive short-term opportunities and influence moments of market madness.
You may find him inquisitive as he examines tech growth investment opportunities, REITs, blockchains, and cryptocurrencies while creating long-term focused model portfolios.
Since 2017, Brian's investing commentaries have appeared on platforms including The Motley Fool Canada and on TipRanks.
Recent Articles
The list of cheap stocks to buy right now includes a re-strategizing FedEx Corp. (FDX), a high-dividend-yield Verizon Communications (VZ) stock, and 5 other undervalued names.
A market sell-off in 2022 is another opportunity to load up on high-quality assets. Here are growth stocks to buy for a richer retirement.
QuantumScape Corp. (QS) stock's 93% plunge from all-time highs makes it a vulnerable acquisition target as it scales up development.
SIGA Technologies (SIGA) may lead on the list of monkeypox stocks that could soar, but Bavarian Nordic seems to be leading the sales race.
REITs can play critical roles in a long-term focused investment portfolio. We discuss some of the best REIT ETFs to buy now depending on your chosen portfolio strategy.

Join InvestorPlace Insights — FREE!
Get actionable advice from our top experts, including the hottest stocks to buy & sell, 401k and retirement tips, market analysis and more!